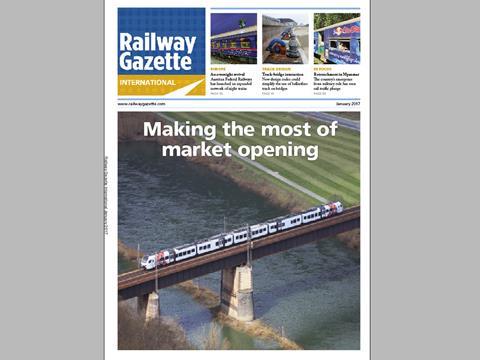 Feature articles in the latest issue of Railway Gazette International, the leading business journal for railway operators and suppliers, read in 140 countries. Subscribe to Railway Gazette International today.
Comment
News
Main Line
Urban Rail
Market
Industry
Innovations
Pointers
Analysis
DSB seeks to close 'an unhappy chapter' when it phases out IC4 DMUs, FRA reports uneven progress in Positive Train Control implementation, Moving the economy forward in Australia
Europe
Fourth Railway Package clears the last hurdle
The European Parliament voted on December 14 to approve the final wording for the market pillar of the Fourth Railway Package. Murray Hughes reports from Brussels
Open access gains ground
Inter-city open access passenger trains in Europe remain the exception rather than the rule, but new entrants established on busy corridors are spreading their wings. Murray Hughes investigates
A brighter future at night
Austrian Federal Railways has bucked the European trend of shrinking night train services by growing its offering, launching six new routes on December 11 under the Nightjet brand. Long-Distance Passenger Director Kurt Bauer explains the operator's strategy to Nick Kingsley
China targets an eastern gateway
Work is about to get underway on a Chinese-backed upgrading of the Beograd – Budapest corridor, representing one of the largest rail infrastructure projects in eastern Europe
Track design
Matching ballastless track with bridge structures
New codes and standards will make it possible to eliminate rail expansion devices for continuous welded rail on many long bridges, making the use of ballastless trackforms more economical for high speed lines in particular
Taking trams across the Rhein
Novel expansion joints have been developed to help carry an extension of the Strasbourg light rail network over the River Rhein to the German town of Kehl
Ticketing & fare collection
Towards mobility as a service
Train operators have yet to grasp the potential of a truly digitally enabled passenger experience, argues David Pitt of transaction technology specialist SilverRail
In focus
Myanma Railways moves from expansion to consolidation
Faced with a dramatic drop in both traffic and revenue, Myanma Railways is concentrating on a few key investment projects as it seeks to consolidate its core network. Peter Janssen reports from Yangon
Research & skills
Joint research centre opens in Qingdao, Australian young professionals pitch innovation ideas
Forum
People
Dieter
Sidetrack
Diary
Viewpoint
Rail Supply Industry Watch
The economic outlook for the next year is mixed, as the global economy is likely to suffer from the suspension of trade agreements and major political conflicts have not been resolved. We asked our panel of industry executives about their expectations for business in 2017
Railway Gazette International is the leading business journal for railway operators and suppliers, read in 140 countries. Subscribe to Railway Gazette International today.