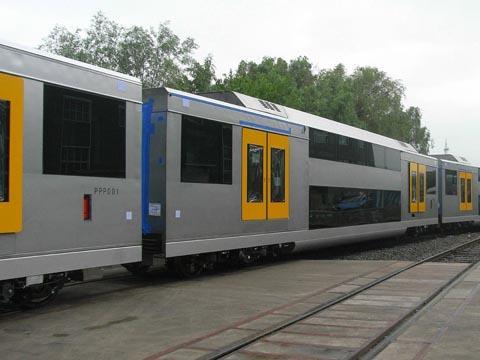 AUSTRALIA: The double-deck commuter trains being built for Sydney under the Reliance Rail PPP contract were officially named 'Waratah' when Minister for Transport David Campbell unveiled four pre-production cars at Newcastle on July 29. Waratah is a shrub native to southeast Australia, and the floral emblem of New South Wales.
NSW passenger operator RailCorp is procuring 78 eight-car trains plus two spare vehicles through a A$3·6bn PPP contract awarded to Reliance Rail in December 2006. Reliance Rail has subcontracted design and manufacturing to a joint venture of Downer EDI Rail and Hitachi.
The stainless steel bodyshells are being produced at China Northern's Changchun plant, before being shipped to Newcastle via Dalian. Cabs, test equipment, traction inverters and auxiliary electrical supplies will be installed at Downer EDI Rail's plant in Cardiff before trials begin early next year, but the pre-production cars do not require full interiors as they will not carry passengers.
Delivery of production trains for fitting-out at Cardiff will be begin later this year. They are expected to enter service between April 2010 and September 2013, replacing all CityRail coaches without air-conditioning by the end of 2012 as well as providing additional stock to accommodate growth.
Reliance Rail will maintain the trains at a A$220m facility at Auburn, under a contract which runs for 30 years from the delivery of the 68th trainset.
'The Waratah trains will be the most technically advanced on the network, improving reliability, safety and the travel experience of Sydney commuters, as well as providing additional capacity for the CityRail network,' said RailCorp Chief Executive Officer Rob Mason.