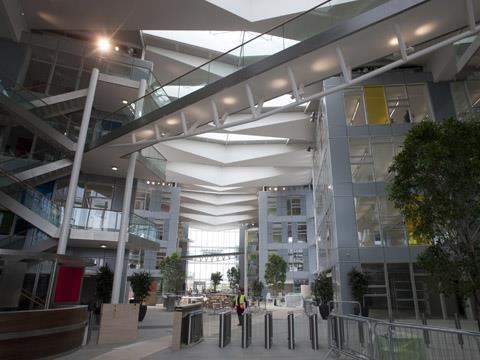 UK: After five years of planning and construction, on June 11 Network Rail's new national centre known as The Quadrant:MK welcomed the first of more than 3 000 employees who are due to relocate to the site in Milton Keynes.
Activities being moved to the national centre during the coming months will include engineering, logistics, operations including timetable planning, IT, procurement, planning and finance. Around 700 new positions are currently being advertised, with more likely in September; 62% of candidates are from outside the rail industry.
The concept of a national centre originated when it was realised that leases on major London offices were due to expire this year. A total of 15 NR offices around the country at traditional railway centres like York will be closed. For the time being NR's head office at King's Place near King's Cross station in London will remain in use, but board meetings will be held at The Quadrant:MK from June 18.
The Quadrant:MK was designed by GMW Architects and built by BAM at a total cost of £108m. It is H-shaped, with four five-story office buildings linked by glazed atriums 21 m high. A prominent feature of the atrium is open staircases for each building linked at third-floor level by footbridges. The stated aim is to make it easy to go and talk to people in any department, rather than sending an e-mail.
The central atrium is described as a 'street', with retail and catering facilities including a branch of newsagent and bookseller WH Smith. Other staff facilities include a gym.
NR's new national centre also has an auditorium seating 50, plus 24 meeting rooms accommodating from four to 38 people. All office areas are open plan, with 'hot desking' so there are fewer desks than potential users. Desks are not 'bookable' so they must be cleared at the end of the day with documents and personal items locked in a cabinet.