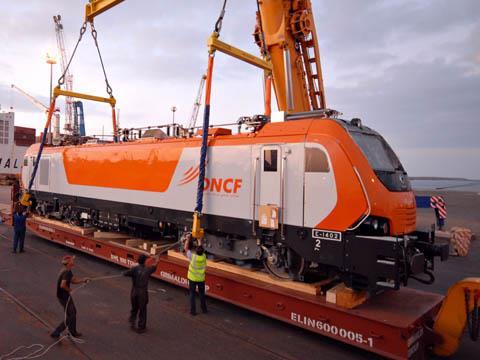 MOROCCO: The first of 20 Prima II electric locomotives ordered by national railway ONCFM has arrived in Casablanca after being shipped via Antwerpen.
It will now undergo endurance tests before entering service next year. The rest of the locomotives will follow by March 2010.
ONCFM placed a €75m 'off the drawing board' order for the first of Alstom's highly-modular Prima II locomotives in November 2007. The Moroccan machines are rated at 5·5 MW on 3 kV DC, and are intended to haul 15-car passenger trains at 160 km/h and freight at 120 km/h.
Alstom said it has supplied 27 electric locomotives to ONCFM since 1992. It was also involved in a project to double track the Fèz - Meknès line which was completed in June 2007, and has modernised signalling on 900 km of the network. Alstom is also involved in the development of 200 km high speed line between Tanger and Kénitra.