ITALY: From November 10, high speed open access operator Italo-NTV will cut back its services to a bare minimum because a second national lockdown needed to combat Covid-19 has caused demand to collapse. The only trains to operate will be two daily services on the Roma – Venezia route and six a day between Napoli, Roma, Milano and Torino. Around 1 300 staff may be laid off.
The company said that the drop in demand was 'over 90% on long-distance routes'. This followed a ministerial decree taking effect on November 5 which banned travel to and from areas with a high incidence of Covid-19; these included Piemonte, Lombardia and Calabria, all regions served by Italo-NTV.
Towards the end of October, Italo-NTV President and founder Luca Cordero di Montezemolo had announced that services would be halted immediately if public funds were not received to keep it going. Minister for Infrastructure & Transport Paola de Micheli, who was appointed in September 2019, told Rai News24 that the government had allocated resources and that she had notified the European Commission. She and the Minister for the Economy & Finance Roberto Gualtieri had signed off the funds and they would therefore become available.
She was referring to the so-called Relaunch decree announced in May which reportedly allocated around €70m of public funding to the rail sector this year, with a further €80m due to be made available in 2021. The funds are intended to support rail operators not subject to public service obligations. In practice, this is likely to mean that the money is divided between Italo-NTV and Trenitalia's Frecce and Intercity services.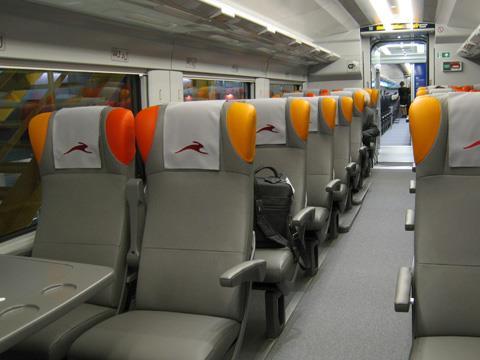 Di Montezemolo said in an interview in Corriera della Sera that he did not dispute the government's commitment but that no funds had actually arrived. He pointed out that the launch of Italo-NTV had led to fares reductions of up to 40% and that the company was cited elsewhere in Europe [before the pandemic] as an example of successful private sector competition.
Italo-NTV CEO Gianbattista La Rocca suggested in October that the reduction in its long-distance services meant that the company's rolling stock could be redeployed to operate regional services. Paola de Micheli dismissed the idea as not feasible because there were not enough tracks in major stations to accommodate additional trains.
Earlier, La Rocca had said that demand during the first lockdown had dropped by 99%, with the number of passengers falling from around 60 000 to just 300 a day, forcing the company to cut back services. La Rocca asked the government to suspend part of the access fees that Italo-NTV pays to infrastructure company Rete Ferroviaria Italiana, noting that his company had suspended distribution of a €151m dividend to shareholders and reduced managers' remuneration.
When the pandemic was brought under control during the summer, Italo-NTV started to ramp up services again, albeit with capacity reduced by 50% to allow for social distancing.
Italo-NTV is owned 72∙6% by GIP Global Investment, with 11∙5% held by Allianz, 7∙6% by IP Infra Investors LP, 7∙7% by 'reinvesting shareholders' including di Montezemolo, and 0∙6% by Molagers.