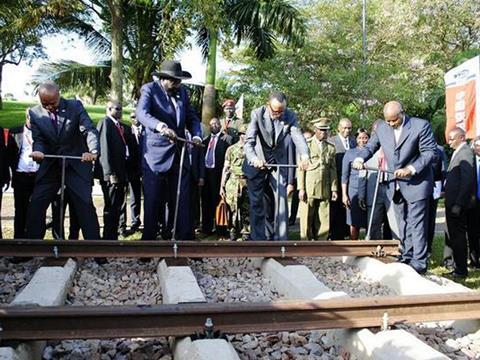 The presidents of Uganda, Rwanda and South Sudan ceremonially launched construction of the standard gauge line from Malaba in Kenya to Kampala in Uganda on October 8.
With CSR now delivering 30 six-car EMUs for the Mitre commuter network, Argentina's Minister of the Interior & Transport Florencio Randazzo has announced that the 27 three-car DMUs being built by CNR for the Belgrano Sur route are due arrive in Buenos Aires in May 2015.
SNCF has suspended passenger services until July 4 2015 on the 54 km from Sainte-Pazanne to Saint-Gilles-Croix-de-Vie and the 30 km from Sainte-Pazanne to Pornic for the second phase of route modernisation.d landfill site in former quarries in the northwest.
NS, ProRail and the municipal authority have agreed to rebuild Harderwijk station by 2016.