Focused on multi-disciplinary railway technology, the biennial Railtex exhibition takes place at the National Exhibition Centre in Birmingham on May 12-14.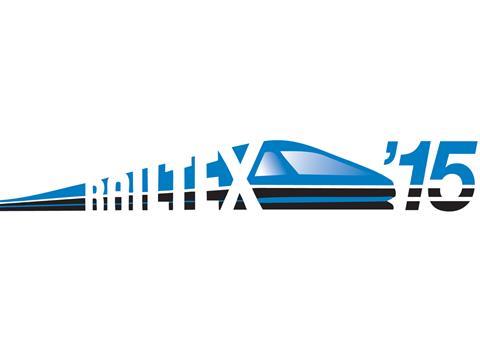 RAILTEX: With a spending plan for the five-year Control Period from 2014-19 totalling £38bn, of which enhancements make up £13bn, Britain is a rail investment hotspot. But a year into CP5, it is already apparent that this investment programme faces mounting pressure over timescales and budgets.
Nevertheless, with so much of continental Europe remaining in the economic doldrums, it is little surprise that the UK market is attracting international investors, and this is reflected in the agenda for the Railtex railway technology trade show being held at Birmingham's National Exhibition Centre on May 12-14.
Organised by Mack Brooks Exhibitions, Railtex is expected to draw around 350 exhibitors from a range of railway disciplines, and visitors will have the opportunity to attend a number of seminars and presentations, including a series of project updates from Network Rail. Keynote addresses are to be given by NR Chairman Richard Parry-Jones, Terence Watson, UK President of Alstom Transport and co-chair of the Rail Supply Group, and Tim Shoveller, Managing Director of the NR/South West Trains Alliance.
But sure to attract considerable attention is the visit on May 12 of a Chinese delegation, including China CSR Corp's Chief Representative Jing Sun, CSR Sifang Director Zheng Chang Hong and Chinese Ambassador to Britain Liu Xiao Ming; among the topics likely to be raised is the impending merger of CSR and CNR to create China Railway Rolling Stock Corp.
Suppliers on show
Among the international exhibitors, MTU will be showcasing its hybrid powerpack design recently trialled in Germany, while Augsburg-based Kontron will be introducing the latest update to its TRACe onboard vehicle health diagnostic computer during a presentation at the Seminar Theatre on May 13. Staying in IT, Germany's Polyrack Tech Group and Cannon Technologies will be jointly exhibiting a range of electronic enclosures and tablet PCs for driver-machine interface applications. Equipped with a capacitive touchscreen and available in various sizes, the PanelPC2 is being offered to UK customers for the first time.
Trackside and rooftop antennas, optic fibre cabling, radio frequency cables and cabling for data transfer and power are the focus of the Huber+Suhner stand as the company highlights the importance of robust train-to-wayside communications equipment. Monitoring specialist Bender UK and power supply company Geffen Group have joined forces to develop the Bender RS3 early fault detection system for signalling. This should give advanced warning of cable failures, whether caused by rodent attack or age-related degradation. Each RS3 unit includes GSM-enabled data loggers to provide real-time alerts of the asset condition, as well as location data.
UK electronics consultancy ByteSnap Design will also be focusing on low-cost remote monitoring techniques. It will demonstrate a solar-powered data acquisition tool and rugged, waterproof data logger capable of transmitting weather information over a 10 km low-power radio link. 'Collecting data and transmitting this in real time is critical for monitoring signalling track circuits, cable theft, also other examples such as monitoring earthworks and bridge bash incidents', explains ByteSnap's Director Dunstan Power.
Armacell is a supplier of fire-resistant insulation, and the company is using this year's Railtex to launch Armaflex Rail SD, a flexible insulating material for refrigerant pipework and air ducts which is compliant with EN 45545-2. The closed-cell material has an anti-microbial agent to protect against condensation and reduce energy losses, while its malleable structure allows for rapid installation, Armacell says.
Depot equipment specialist Mechan is using Railtex to raise its profile - literally. The Sheffield-based firm is installing a full-size operational depot jack on its stand, and demonstrating its Megalink control software. Depot services are also the focus of Wilcomatic's stand, where controlled emission toilets, water replenishing and refuelling systems, and oil and coolant products will be on show.
TRaC Global is a first-time exhibitor at Railtex, focusing on testing and certification. The company has recently enhanced its UK facilities through the procurement of an electromagnetic shaker, a large-vibration tool designed to replicate the harsh operating environment in which most rail equipment functions.