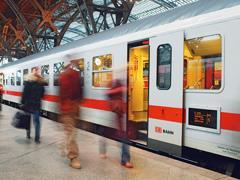 GERMANY: The high-profile ICx programme to renew DB's inter-city fleet took a decisive step forward on January 25, when DB Chairman Rüdige Grube announced the selection of Siemens as preferred bidder for a framework agreement. Detailed negotiations will now begin, with the aim of signing a firm contract this summer.
DB confirmed to Railway Gazette International that it has opted for fixed-formation trainsets with distributed traction, and is negotating for a range of different sets with various lengths, power rating and top speeds.
When DB launched the ICx concept in 2008, the top priority was to replace its locomotive-hauled InterCity and EuroCity stock, which despite refurbishment is approaching life-expiry. The original order was put at between 100 and 130 trainsets, with a maximum speed of 200 to 250 km/h.
The ICx programme was subsequently expanded to include replacement of DB's first generations of high speed train, the ICE1 and ICE2 sets. Intended to run at 280 km/h or more, these trains would lift the potential size of the ICx fleet to around 300 trainsets.
Bids were received last year from Alstom Transport and Siemens Mobility, which had reached agreement for Bombardier Transportation to act as a subcontractor. However, DB Board Member, Passenger, Ulrich Homburg said in October that the prices ranging from €5bn to €8bn were not acceptable. But despite DB warning that it might invite new tenders on the basis of smaller tranches, negotiations continued with both bidders.
Announcing the appointment of Siemens as preferred bidder, Grube said that 'even in these economically challenging times, the modernisation of our rolling stock fleet has highest priority', adding that 'we will drive the process forward in the coming months'. Board Member for Engineering Dr Volker Kefer emphasized that with the ICx forming the platform for DB's next generation of long-distance trains, 'the quality of the technology is an essential requirement. Setting milestones for quality assurance will be a crucial element in the negotiations.'