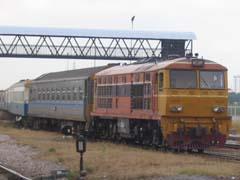 THAILAND: A framework agreement for a Memorandum of Understanding covering the construction of two standard-gauge inter-city corridors was approved by Deputy Prime Minister Suthep Thaugsuban on March 21.
This marks the latest milestone in the Thai government's efforts to agree its position ahead of ministerial negotiations with China to reach a bilateral agreement on the project. A joint venture would then be established to build two new lines totalling 1 554 route-km, radiating from Bangkok to Nong Khai in the north (580 km) and Pedang Besar in the south (974 km).
Thaugsuban has asked Transport Minister Sophon Saram to accelerate discussions with China so that the draft MoU can be presented to the Thai parliament before it is dissolved in two months' time. The agreement is likely to specify conditions on high speed rail technology transfer from China to Thailand and include a broad outline of fares policy.

Saram confirmed that the Thai government would hold a 51% majority stake in the joint venture company.