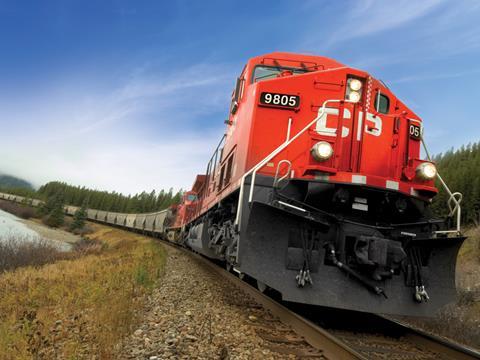 CANADA: Canadian Pacific Railway Ltd has announced its lowest-ever Q4 operating ratio of 56·2 and a record low full-year OR of 58·6 for 2016, saying focused cost control helped to offset softer than expected traffic volumes.
'While the fourth quarter was weighed down by challenging operating conditions, including unexpected and extreme weather on the West Coast that compounded the impact of an already delayed grain harvest, it once again highlighted our resiliency and ability to operate efficiently under tough conditions', said outgoing CEO E Hunter Harrison, who stepped down with effect from January 31.
Revenues decreased 7% year-on-year to C$6·23bn. '2016 featured stiff economic headwinds and a challenging volume environment, headlined by a precipitous decline in crude oil shipments and weakness in grain movements, particularly in the first half', said Harrison. 'These are not excuses, but opportunities to showcase our operating ability and leadership. As we have shown over the last four years, the precision railroading model works in all economic conditions'.
'The franchise is well positioned for 2017 and beyond', said President & Chief Operating Officer Keith Creel, who took over as CEO with Harrison's departure. 'With continued margin improvement and an anticipated increase in volumes, led by a stronger bulk outlook, we expect adjusted diluted earnings per share growth to be in the high single-digits,' he said.
CP plans to invest approximately C$1·25bn in its 2017 capital programme, an increase of 6% on 2016.