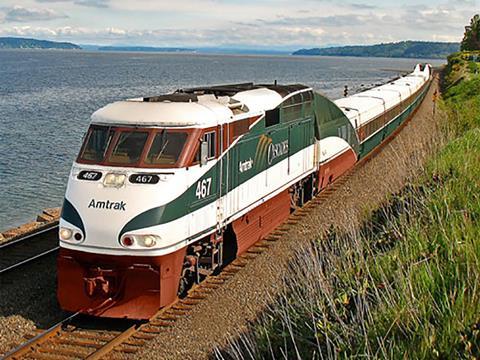 USA: The federal government has approved more than $272m of funding for 10 'state of good repair' projects, the Federal Railroad Administration announced on August 21.
The money is intended to co-fund works to improve publicly-owned railway infrastructure and the performance of inter-city passenger services.
FRA said the selected projects all exceeded the requirement for a minimum of 20% non-federal match funding, and would leverage more than $190m of non-federal funds.
The funding for Washington state will enable replacement of the Talgo VI trainset destroyed in the Point Defiance derailment and the withdrawal of the two remaining trains of that type, as recommended in the NTSB report into the accident.
| State | Project | Federal funding, $m | Recipient |
| --- | --- | --- | --- |
| Illinois | A-32 Bridge Replacement | $17·8 | Metra |
| Louisiana | New Orleans Union Station platform and plant improvement | $3·7 | City of New Orleans |
| Massachusetts | Boston South Station expansion Tower 1 interlocking early action project | $41·2 | MassDOT |
| Michigan | Kalamazoo - Dearborn line state of good repair projects | $23·3 | Michigan DOT |
| North Carolina | Acquisition of 13 coaches for the Piedmont inter-city service and expansion of the Charlotte maintenance facility | $76·9 | North Carolina DOT |
| New Jersey | Newark Penn Station platform D improvements | $18·5 | NJ Transit |
| Pennsylvania | Keystone Corridor Zoo interlocking state of good repair improvements | $15·1 | Pennsylvania DOT |
| Rhode Island | Providence station state of good repair and capacity | $12·5 | Rhode Island DOT |
| Washington | Procurement of three trainsets to replace Talgo VI trains used on Amtrak Cascades services | $37·5 | Washington State DOT |
| Wisconsin | Three driving cars and six coaches to replace outdated vehicles used on Amtrak's Chicago – Milwaukee Amtrak Hiawatha service | $25·7 | Wisconsin DOT |