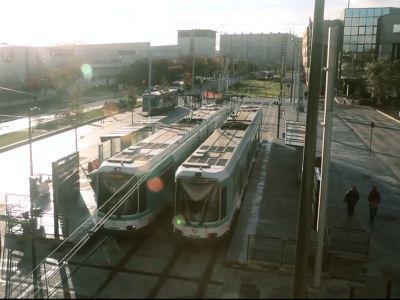 FRANCE: The 5 km western extension of Paris tram route T1 from Saint-Denis to Asnières-Gennevilliers – Les Courtilles was opened by the capital's public transport operator RATP on November 15.
Running through the outer suburban districts of Saint-Denis, Ile-Saint-Denis, Villeneuve-la-Garenne, Gennevilliers and Asnières-sur-Seine, the extension adds 10 more stops to the orbital route inaugurated between Saint-Denis and Bobigny in 1992. The route was subsequently extended from Bobigny to Noisy-le-Sec at its eastern end.
The extension brings light rail services to an area with around 55 000 inhabitants, and is expected to carry 43 000 passengers/day. The new route follows an orbital main road which has been remodelled with the planting of 900 trees and the creation of paved areas. A short section through Gennevilliers is laid with two single tracks in parallel streets. Interchange between T1 and RER Line C is provided at Gennevilliers, whilst the trams connect with metro Line 13 at Les Courtilles. There will also be an interchange at Saint-Denis with RER Line D and the future tram route T8 to Epinay and Villetaneuse.
Total cost of the project is put at €150m, of which €79m has been contributed by the Ile-de-France region and €38m by Hauts-de-Seine. The national government provided €30m, with the remaining €3m coming from RATP. Oversight for the project and the contracting of operations was the responsibility of Ile-de-France transport authority STIF.
The extended route is worked by RATP's existing fleet of 35 TFS2 part-low-floor cars, of which 19 were built for T1 and 16 were transferred from T2. The trams will operate from 05.30 to 00.30 each day, running at 5 min headways during peak hours and every 6 to 8 min at other times. Journey time from Saint-Denis to Les Courtilles is expected to be around 20 min. To coincide with the opening of the tram routes, RATP will reconfigure its local bus operations with effect from November 19.
Read more about the Paris metro and light rail expansion projects in the March 2012 issue of Metro Report International.