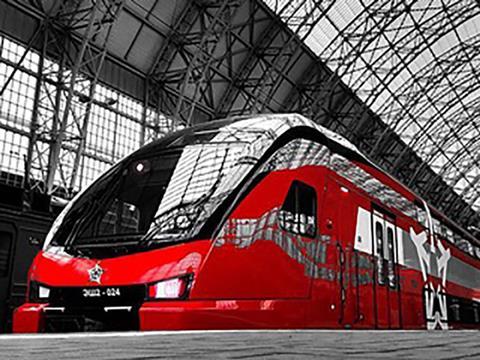 RUSSIA: Airport shuttle service operator Aeroexpress put its Stadler Kiss double-deck electric multiple-units into revenue service on the Moscow Kievskaya – Vnukovo Airport route on October 27. The new units will also be introduced on the Moscow Paveletsky – Domodedovo Airport route during November.
The 1520 mm gauge Class ESh2 EMUs are part of Stadler's Kiss family, but are larger than their 1 435 mm gauge counterparts at 5 240 mm high and 3 400 mm wide. They have a maximum speed of 160 km/h, and are winterised for use in temperatures from -50˚C to +40˚C.
In February 2013 Stadler beat Alstom and Škoda for the contract to supply 3 kV DC units to increase capacity on Moscow airport services. The original €350m order covered 16 four-car and eight six-car EMUs, with two options for a total of 60 cars formed as 13 units. The first of the units were delivered from Stadler Rail's Altenrhein factory in Switzerland in September 2014, and the rest supplied from Fanipol in Belarus.
Aeroexpress was then hit by the effects of a fall in oil and gas prices, the imposition of international sanctions on Russia and the decline in the value of the rouble, with ridership down from 19·7 million passengers in 2014 to 11·6 million in 2016. As a result the order was reduced in May 2016 to two four-car and nine six-car EMUs worth €184m, backed by a loan from Gazprombank.
Stadler supplied five of the surplus four-car units to Azerbaijan's ADY, and four four-car units to Georgian Railway.