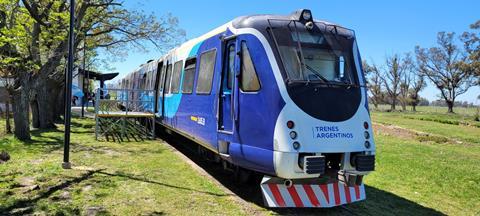 ARGENTINA: Trenes Argentinos has extended the González Catán – Villars suburban service by one station to Lozano.
The suburban service is part of the metre-gauge Belgrano Sur network, serving the areas southwest of Buenos Aires. Since September 29, a single return trip has been operating on the extension, initially only on Saturdays and Sundays. However, more work is ongoing to rehabilitate the line as far as Navarro, which is beyond Lozano to the southwest. In total, renovation work is now underway on more than 50 route-km to support the service expansion.
The Belgrano Sur network is also being extended at the city end from its current Doctor Antonio Sáenz terminus to Plaza Constitución, which is served by the 1 676 mm gauge Roca network. The 5∙6 km elevated extension was reported to be 55% complete in August; the much-delayed scheme had been due for completion in 2019 at a cost of 1∙4bn pesos. The project includes reconstruction of Doctor Antonio Sáenz station at elevation.
'The Belgrano Sur network is the only one that has no interchange with the metro and other commuter rail networks in the Buenos Aires metropolitan area', said Minister of Transport Diego Giuliano. 'It will change soon with the elevated line reaching Constitución and offering interchange with metro Line C and the Roca lines. This will also bring a significant decongestion for the Sarmiento line because many people today choose it for the transfer options it offers, but when we finish the Constitución extension, they will opt for the Belgrano Sur.'
The project forms part of the government's Transportation Modernisation Plan, which has seen the reactivation of seven passenger and four freight services under the current administration.
'With this expansion of the Belgrano Sur line we reached 80 municipalities reconnected by either freight or passenger trains throughout the country', the minister said. 'It is a great milestone for our management, which always had the objective of returning trains to Argentines as an economic, fast and safe means of transport to work, to study, to visit friends or family, or even for tourism.'