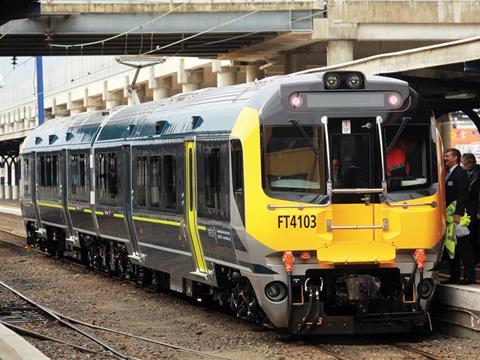 NEW ZEALAND: KiwiRail is taking action to improve track inspection on passenger routes in Wellington and Auckland following the publication of a report into service disruption during May which Greater Wellington Regional Council Chair Daran Ponter said provides 'an eye-opening account of poor decision-making'.
The report was commissioned by the government after a failure of KiwiRail's EM80 Track Evaluation Car meant it was unable to complete planned assessments of Wellington's Kāpiti Line in May. As a result, a 70 km/h speed restriction had to be put in place, which resulted in several days of disruption across the Metlink-branded commuter network.
KiwiRail CEO Peter Reidy said 'there were no safety issues with the Kāpiti Line — it was the equivalent of a warrant of fitness expiring'.
Recommendations
The review published on August 31 makes four recommendations to strengthen the governance, safety and funding of passenger services, and more than 30 to support the strengthening of institutional arrangements, operating models and policy systems.
The review says there was a culture of 'decision-making being pushed up the chain of command' at KiwiRail, 'rather than problems being solved at the level they are created and observed'.
Chair of Greater Wellington's Transport Committee Thomas Nash said current funding is not enough to deal with the range of resilience issues which need to be addressed, including slope instability and assets at the end of their life. 'We've asked KiwiRail to identify all potential critical points of failure on our rail network, and we believe an injection of cash will be necessary to manage these risks', he said. 'This is especially important given our ambition to triple passenger rail capacity in our region over the next 30 years.'
KiwiRail said it had already begun changing its systems to directly address specific failings:
use of the TEC is now part of a wider 12-month plan linked to when track safety cases expire;
there are robust processes for prioritisation where the TEC schedule cannot be met;
a review of the tasks needed to ensure the TEC's successful operation, including staff resourcing and training;
reviewing the maintenance programme for the TEC, with procurement underway for its replacement in 2027.
Reidy said 'we take full responsibility for what happened in Wellington. The TEC has been working for 41 years and this is the first time we have had issues like we did.'