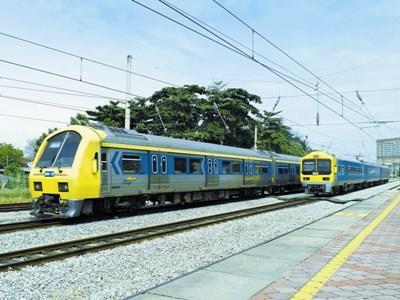 MALAYSIA: Siemens Mobility announced on November 26 that it is to supply traction equipment for a build of 38 six-car EMUs being supplied by CSR Zhouzhou Electric Locomotive Co Ltd to expand the capacity of KTMB's Komuter suburban rail network around Kuala Lumpur. The 4bn yuan train order had been signed on July 23.
Valued at €65m, the Siemens contract covers traction equipment and vehicle control systems, including transformers, power converters, and traction motors. The six-car sets will have an installed traction package with a continuous rating of 3 500 kW. Delivery of the equipment is scheduled to begin in January 2011
With more than 4 million people now living and working in the Klang Valley region, the Komuter services are carrying around 100 000 passengers per day. The two-line network totalling 177 route-km serves 50 stations, and is worked by a fleet of 62 three-car EMUs, of which only 35 are reported to be serviceable.
The additional rolling stock is required to operate several network extensions, permit the operation of six-car formations and reduce headways from 15 min to 10 min at peak times. KTMB introduced a few peak-hour limited-stop six-car services on October 13.
Earlier this year KTMB extended the Port Klang – Sentul route by 7 km to Batu Caves, adding four stations. Following completion of the main line electrification north from Rawang to Ipoh, the Seremban – Rawang service is being extended to Tanjung Malim, adding another five stations and 53 route-km. Another 10 km extension south from Seremban to Negeri Sembilan is due to be launched next year as part of the electrification of the main line to Gemas.