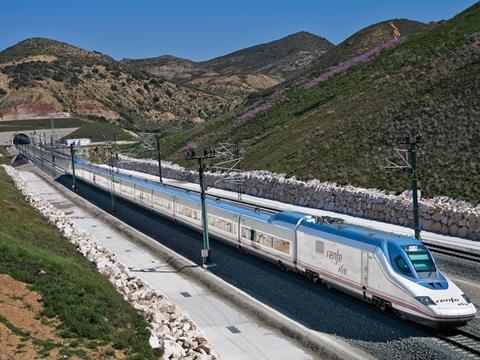 SPAIN: The National Commission on Markets & Competition has decided to resume work on reviewing the application by Air Nostrum subsidiary Intermodalidad de Levante SA to launch the country's first open access high speed services, despite a legal challenge from the Ministry of Development.
ILSA is hoping to launch a Montpellier – Madrid service under European directives liberalising international passenger operations. It has applied to run two trains each way per day from October 5, calling at Zaragoza, Barcelona, Perpignan and Narbonne, using AVE S100 trainsets.
According to the application, the international route linking Languedoc-Roussillon, Midi-Pyrénées, Cataluña, Aragón and Madrid has a potential market of 5·2 million passengers per year, but ILSA's Víctor Bañares argues that the current RENFE service is not commercially attractive, with an evening arrival in Montpellier poorly suited to business travel.
ILSA's proposed schedule would enable the open access operator to compete head-to-head with RENFE for domestic travel between Madrid, Zaragoza and Barcelona. CNMC President José María Marín Quemada has indicated that the regulator would probably support the application if at least 20% of the international route were operated outside of Spain and international traffic accounted for least 30% of ridership and a similar proportion of revenue.
However, the ministry issued a legal challenge over the competence of CNMC to set this benchmark, questioning how far the liberalisation of international services should apply to domestic travel. At the same time, it has backed RENFE's proposal to launch low-cost EVA services in the Madrid – Barcelona high speed market.
Although the court has yet to consult the affected parties before ruling on the substantive complaint, CNMC has decided to continue assessing considering whether the proposed service would meet its economic requirements as a stopgap.
Meanwhile, ILSA is reported to be in discussion with potential partners and suppliers as it prepares for the expected opening of the domestic passenger market in 2020.