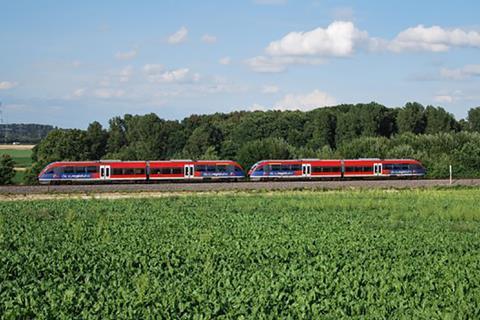 GERMANY: Regional transport authority NVR has awarded incumbent and sole bidder DB Regio a contract to continue to operate Euregiobahn passenger service RB20 for four years from December 12 2021.
There are options for the contract to be extended or shortened by one year to align the end dates with the completion of electrification works which will enable a switch from diesel traction.
The contract covers the operation of 1·571 million train-km/year between on a route which runs in a loop from Stolberg via Alsdorf, Herzogenrath and Aachen back to Stolberg and then to Stolberg Altstadt or Düren. Extensions to Baesweiler and Breinig are planned.
The current fleet of Bombardier Class 643.2 Talent DMUs is to be refurbished in time for the start of the contract, with the installation of new seat cushions, USB sockets, passenger information screens and wi-fi.
Trains after 19.00 will have onboard attendants, and there will be a larger pool of operational staff.