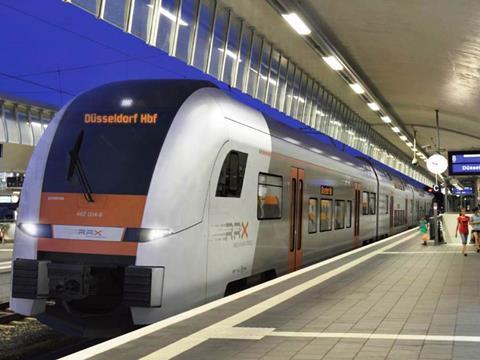 GERMANY: The European Investment Bank is to provide a €340m long-term loan to help fund the Rhein-Ruhr-Express project in Nordrhein-Westfalen, as part of a financing package announced on July 16. A credit of €283m will be provided by KfW IPEX-Bank, and additional funding is coming from Helaba (Landesbank Hessen-Thüringen).
The bank funding is intended to support the purchase of 82 Desiro HC high-capacity electric multiple-units which are due to start operating on the six RRX routes from December 2018.
Formed from a mix of double-deck and single-deck vehicles, the Desiro HC EMUs were ordered from Siemens in March under a deal valued at more than €1·7bn. This includes maintenance over 32 years at a new facility which Siemens is to build at Dortmund-Eving.
EIB President Werner Hoyer said 'with the close co-operation of the four transport associations, the RRX project is a first for local transport in Nordrhein-Westfalen', bringing benefits across the region and beyond. He was confident that EIB would do further business with the four authorities in the future.
KfW IPEX-Bank Board Member Christian Murach said the financing deal would support the 'technical centrepiece' of the service improvements in Nordrhein-Westfalen. The RRX project would have 'an immediate positive effect on the environment', he believed, with the projected transfer of 30 000 journeys a day from road to rail bringing 'a significant reduction in pollutant emissions'.