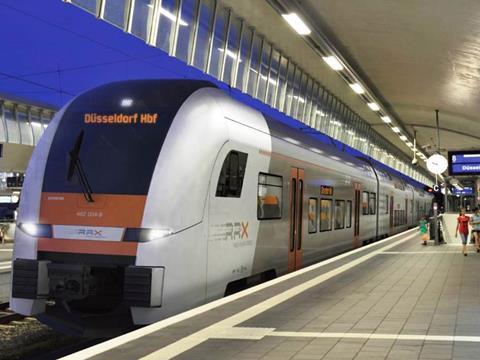 GERMANY: National Express and Abellio were named as preferred bidders for three contracts to operate Rhein-Ruhr Express passenger services on June 16.
Totalling 14·6 million train-km/year, the operating contracts start in 2018-20 and run until December 2033, with options for termination up to two years early. They are being awarded jointly by the Rhein-Ruhr, Rheinland, Westfalen-Lippe, Rheinland-Pfalz Nord and Nordhessische transport authorities. Formal signing is subject to no objections being submitted during the 10-day regulatory standstill period.
Lot
Preferred bidder
Train-km/year, million
Services
Dates
1
Abellio Rail NRW
6·2
RE1 Aachen - Köln - Essen - Hamm
June 2020 - December 2033
RE11 Düsseldorf - Essen - Dortmund - Hamm - Kassel
December 2018 - December 2033
2
National Express
6
RE5 Koblenz - Köln - Düsseldorf - Wesel
June 2019 - December 2033
RE6 Köln/Bonn Flughafen - Köln - Düsseldorf - Essen - Hamm - Minden
December 2019 - December 2033
3
National Express
2·4
RE4 Aachen - Mönchengladbach - Hagen - Dortmund
December 2020 - December 2033
Rhein-Ruhr transport authority VRR is leading the procurement, and had previously announced that five companies had bid for the operating contracts. It said one bidder's concerns about its higher staff costs has proved unfounded, and the bidders had been provided with calculations of the expected energy consumption of the 82 Desiro HC electric multiple-units which Siemens is to supply and maintain under a separately-awarded rolling stock procurement contract.
'National Express is delighted with this further success in German rail', said CEO Dean Finch. 'It strengthens our presence in the Nordrhein-Westfalen region, where we begin operating our first contracts later this year. I am very pleased with the progress that our strong local team is making. They are focused on delivering rigorous proposals that will provide excellent services for passengers, a fair deal for local taxpayers and good returns for shareholders.'
An appeal against the selection of National Express as preferred bidder for two contracts to run Nürnberg S-Bahn services is to be heard over the summer.