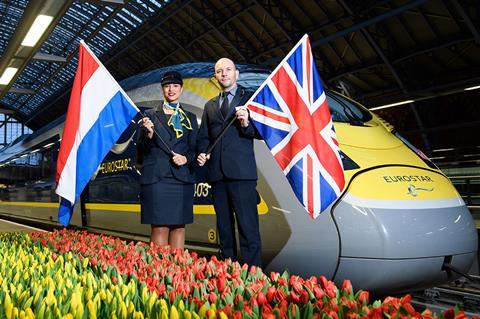 NETHERLANDS: The CEO of Eurostar has met with Dutch officials to discuss the future of services from London to Amsterdam, after Infrastructure Secretary Vivianne Heijnen said operations may have to be suspended for up to 11 months.
In a letter to the Dutch parliament on June 2, Heijnen said major renovation works planned for Amsterdam Centraal station mean that for between seven and 11 months from June 2024 there will be no space for the border and security facilities which are required for trains to the UK.
Eurostar trains also serve Rotterdam Centraal station, but this lacks the capacity to process large numbers of passengers.
Heijnen said attempts to find a solution to the problem have proved unsuccessful.
The station renovation plans included the creation of facilities for UK-bound passengers in the existing Amstelpassage for use from 2025, which will double current capacity. In the longer term, the plan is for Eurostar services to relocate to a new international terminal at Amsterdam-Zuid station from 2036.
On June 5, Eurostar CEO Gwendoline Cazenave met with representatives of Dutch infrastructure manager ProRail, national passenger operator NS and the Ministry of Infrastructure & Water management to discuss the problem.
Following the meeting in Den Haag, Eurostar told Railway Gazette International that 'all parties have agreed to keep working together to find a solution/compromise that will allow Eurostar to continue to welcome travellers in Amsterdam Centraal, and thus offer a direct high-speed rail service between Amsterdam and London'.
Cazenave said 'we are convinced we will together find a suitable solution to allow a direct service between Amsterdam, Rotterdam and London. Eurostar is fully committed to playing a role in the Dutch sustainability policy by continuing to offer a green travel alternative to its Dutch customers.'
Websites
We are not responsible for the content of external sites