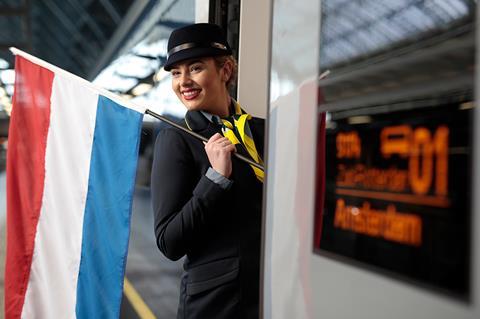 NETHERLANDS: A Swiss firm has been commissioned to assist with finding a way of enabling Eurostar services to continue to run during a major refurbishment of Amsterdam Centraal station.
The planned works mean that areas of the station which Eurostar uses to undertake the border and security checks required for UK-bound services would not be available for some months.
As a result, services between Amsterdam and the UK may have to be suspended for between seven and 11 months from June 2024, Infrastructure Secretary Vivianne Heijnen told the Dutch parliament in June.
Following further discussions, Eurostar, the Dutch government, infrastructure manager ProRail and national operator NS have now jointly commissioned a Swiss firm as a neutral party tasked with helping to come up with a solution.
Eurostar told Railway Gazette International on June 17 that all sides are committed to finding a way to keep the trains running.
Eurostar said it would be 'unthinkable' to suspend the service, and stressed the environmental benefits of travelling by electric train rather than flying.
The station renovation works would double capacity for handling UK-bound passengers from 2025. In the longer term Eurostar services could transfer to a new international terminal at Amsterdam-Zuid station from 2036.