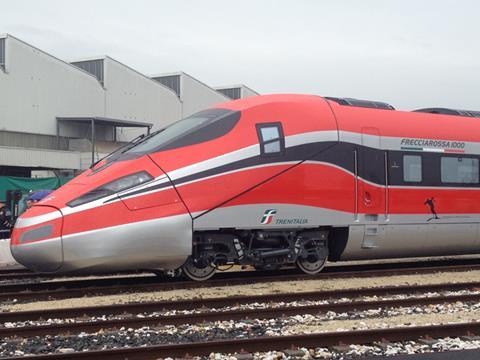 ITALY: The first of 50 ETR1000 high speed trains was unveiled by FS Holding Chief Executive Mauro Moretti at AnsaldoBreda's factory in Pistoia on March 26.
FS hailed the ETR1000 as 'the fastest series-built train in Europe', noting that it had been designed for speeds of up to 400 km/h.
FS dedicated the first trainset to Italian sprinter and European 200 m record holder Pietro Mennea, who died on March 21. The operator plans to operate the trains as Frecciarossa services at 360 km/h, cutting the current Milano - Roma journey time from 2 h 55 min to 2 h 15 min, with the prospect of a 1 h 59 min timing between Milano Rogoredo and Roma Tiburtina.
FS said that the first ETR1000 sets would enter commercial service in 2014 after completing a test programme and obtaining certification from the Italian safety authority, although operation at 360 km/h may not be authorised by then. Rival operator NTV also envisages operating its AGV Italo trainsets at 360 km/h on Italy's AV network.
Each eight-car ETR1000 set has 471 seats in four classes: Executive, Business, Premium and Standard, with a 'Silence' area in Business class. A multimedia equipment package will offer passengers access to the internet and a range of entertainment.
Ordered from AnsaldoBreda and Bombardier under a contract worth 'more than €1·5bn', the ETR1000 fleet has bogies featuring active suspension. Power equipment is distributed along the train and the 16 traction motors offer a starting acceleration of 0·7 m/s2. FS said that the train would be 'able to run on all European high speed networks'.