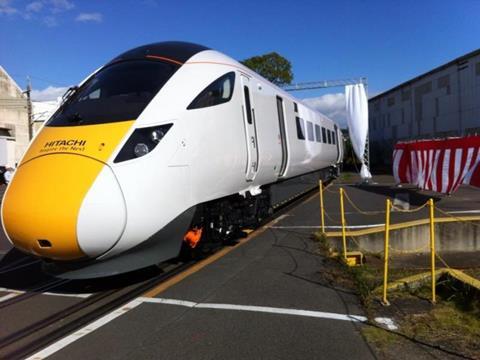 UK: The first of 122 trainsets for inter-city services on the East Coast and Great Western main lines was unveiled at Hitachi's factory at Kasado in southwest Japan on November 13.
The trains are being supplied by Hitachi under the Department for Transport's Intercity Express Programme. Hitachi is building three pre-series trainsets at Kasado before volume production begins; first to be unveiled is a five-car electro-diesel trainset where the three intermediate vehicles are fitted with MTU underfloor powerpacks complying with Euro IIIB emissions standards. A further five-car dual mode train is undergoing final assembly, while the third train is a nine-car trainset eventually destined for use on the ECML.
The first train is yet to be fitted out internally, although one set of sample first class seats have been installed for illustrative purposes. This has been shipped from the UK where full-size mock-up of the passenger saloon has been on display. Decisions about the final interior specification rest with the franchised operators of the fleet, but guests at Kasado were able to inspect a driving car which included completed kitchen galley and accessible toilet modules.
Including the pre-series vehicles, Hitachi expects to produce 12 trains at Kasado before assembly work transfers to its UK factory at Newton Aycliffe, which is expected to open in mid-2015. According to Andy Rogers, Head of Projects at Hitachi Rail Europe, the first trains are expected to enter service on the Great Western Main Line in June 2017.