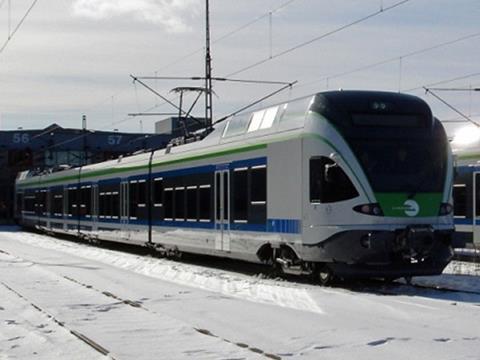 FINLAND: Helsinki train procurement body Junakalusto exercised an option for 34 Stadler Flirt electric multiple-units on September 24. This is the second option on the order for 32 trainsets placed in 2006, and is worth €200m.
Deliveries are due between the start of 2016 and spring 2017, with the nine trains from the first option due to be delivered in November this year.
The 80% low-floor four-car trainsets have 234 seats arranged 3+2. Winterisation features include triple-glazed windows, a heat recovery system for the air-conditioning, and heaters by the doors to keep the interior temperature constant during boarding. The trains feature 11 information screens and six emergency contact points.
Maximum speed is 160 km/h. They will initially be operated using Finnish EBICAB train control, and provision has been made to upgrade to ETCS.
'The co-operation with Stadler in developing the train to tolerate the Finnish climate conditions has worked well. The uniform train fleet now allows an excellent starting point for putting the train traffic out for tender from the beginning of year 2018', said Junakalusto Managing Director Yrjö Judström.
The order brings the number of Flirts ordered to 1 018 since the product was launched 10 years ago.