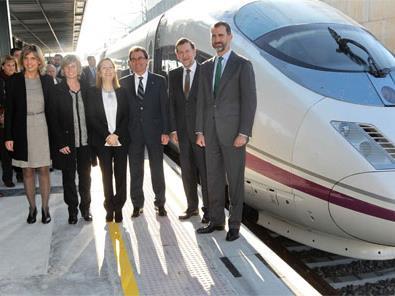 SPAIN: The Prince of Asturias joined Prime Minister Mariano Rajoy, President of the Catalunya regional government Artur Mas and Development Minister Ana Pastor on January 8 to officially open the completed high speed line between Barcelona Sants and Figueres Vilafant. Revenue services were due to start the following day.
RENFE has timetabled nine trains a day each way between Figueres and Barcelona, eight of which continue to and from Madrid. There are two connections a day at Figueres with SNCF services to and from Paris, enabling a passenger to leave Paris Lyon at 07.15 to arrive at Barcelona Sants at 13.48 and Madrid Atocha at 17.10. Through high speed services between the Spanish and French networks are expected to start in April 2013.
As well as catering for long-distance journeys, seats on the Class 103 trainsets will be made available for local journeys between Barcelona, Girona and Figueres, branded as Avant services and offering discounts for regular travellers by means of new multi-journey fares. RENFE says that the Barcelona – Figueres corridor is one of the busiest on the Spanish rail network, currently used by 2⋅5 million passengers a year, and it is hoped that the new high speed services will grow this figure by 40% or 1 million passengers a year.