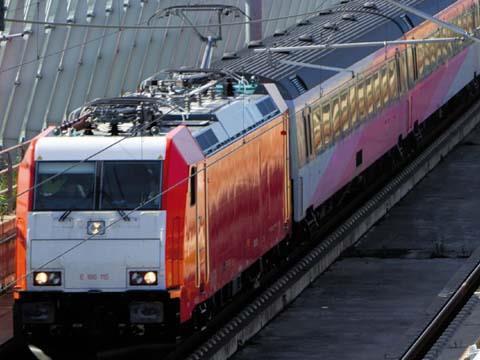 NETHERLANDS: The NS-KLM joint venture High Speed Alliance has stepped up its interim Fyra loco-hauled shuttle service between Amsterdam Centraal and Rotterdam Centraal via HSL-Zuid from one to two trains per hour with effect from October 4.
Unlike most Dutch routes, the pattern of services is not a precise regular interval, because the line is also used by Thalys services to and from Brussels and Paris.
Pending delivery of the much-delayed V250 trainsets from AnsaldoBreda, the domestic Fyra services are being worked by Bombardier Traxx MS Class 186 locomotives leased from Alpha Trains.
HSA had been hoping to extend its shuttle service from Rotterdam to Breda with effect from the timetable change in December, but this is now looking increasingly unlikely. Any extension depends on achieving certification to operate the Class 186s at 25 kV 50 Hz using ETCS Level 2, a process which has been underway for some considerable time.
Test running with the Traxx locomotives on the southern section of HSL-Zuid took place during August, under a temporary 'declaration of no objection' from the IVW rail safety authority. However, these tests had to be suspended following the discovery of electromagnetic compatibility issues on the section between Lage Zwaluwe and Breda, where HSL-Zuid parallels the existing network.
Until the locos can be certified for Level 2 operation, services on the northern section of HSL-Zuid will have to continue using Level 1. This in turn will restrict Thalys services to 160 km/h, rather than the 300 km/h for which the line has been designed.