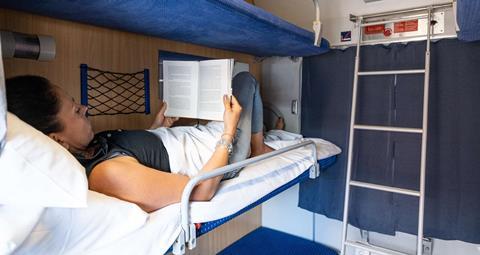 EUROPE: Private open access operators RegioJet and RDC have seen higher than expected demand for the overnight services they launched this month, and Snälltåget has set out plans for expansion. However, the ALLRAIL association of independent passenger operators has expressed concern that incumbent state railways may come to dominate the night train market.
The rapid sale of more than 40 000 tickets has led RegioJet to increase its new Praha – Rijeka service to run daily in both directions. It has also increased the number of bicycles carried to 30, and introduced quiet coaches.
RDC's twice-weekly Alpen-Sylt Nachtexpress launched on July 4, with the first train carrying 120 passengers between the resort island of Sylt in the far north of Germany and Salzburg in Austria. The service was originally planned to run until early September, but reflecting the high demand the operator has extended its season until November.
ALLRAIL said these commercial services demonstrated how private operators were making a significant contribution to the revival of night trains as an environmentally friendly alternative to flights.
However it expressed concern about the risk of 'state-owned incumbents colluding to build up an EU-wide cartel, financed by directly-awarded taxpayer money'. ALLRAIL said political stakeholders advocating the revival of night trains were being advised that they could only be operated with 'preferential subsidy to state-owned incumbents'. It believed this would be an inefficient use of funds and could result in services being introduced to suit the convenience of the operators rather than needs of the passengers.
ALLRAIL cited Austria's directly-awarded support for ÖBB's extensive Nightjet services, suggesting that this could lead to a vicious circle with the incumbent becoming the only operator able to afford new sleeping cars and thus receive more direct awards.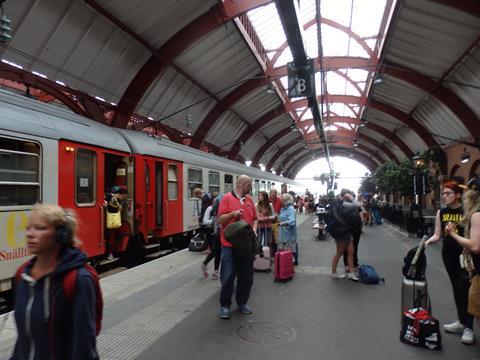 ALLRAIL also expressed concern about emerging proposals for a supported service from Sweden and Denmark to Germany, saying Denmark's DSB had been in talks with ÖBB and any subsidised service would compete with Snälltåget's planned commercial trains.
'If incumbents are allowed to collude and get directly-awarded subsidy, then Europe faces a night train cartel, funded by the taxpayer', said ALLRAIL Secretary General Nick Brooks on July 10. 'Politicians must be clear: the night train market will be effectively closed for a very long time. This would run contrary to the goals of the single EU rail market, which is madness when a clear and efficient alternative model already exists.'
ALLRAIL said government support for night trains should be used to provide lower track access charges, and to give incumbent and non-incumbent operators equal opportunities to finance the purchase of rolling stock. To increase transparency, passengers should also have a right to book all night trains through any ticket vendor.
'Under these conditions, innovators like RegioJet and Snälltåget will grow in number, bringing better quality, lower prices & securing the comeback of night trains in Europe', ALLRAIL suggested.