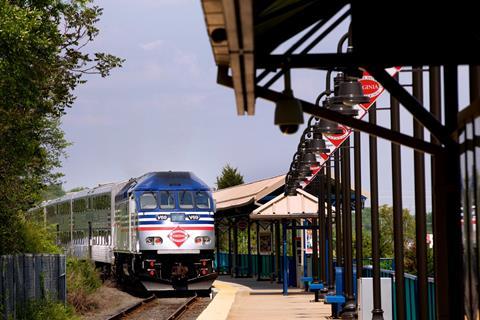 USA: The state of Virginia announced on December 19 that it had reached agreement to acquire more than 360 km of railway from Class I railroad CSX Corp for $3·7bn.
Under what governor Ralph Northam called a 'landmark' deal, the state will use the newly acquired infrastructure to significantly increase passenger services on the north-south corridor linking Washington DC with state capital Richmond, Norfolk and Newport News. In turn, the existing Virginia Railway Express commuter service and Amtrak inter-city trains are to be significantly increased.
The state government envisages a doubling of Amtrak services serving destinations in Virginia, while VRE will see a 75% increase in provision on its Washington – Fredericksburg route. VRE will also introduce regular off-peak and weekend operations.
The agreement also includes a significant package of infrastructure enhancements to enable CSX freight trains to be separated from passenger traffic. Among them is construction of a second span across the Potomac River at Long Bridge and development of an avoiding line at Franconia-Springfield. Long Bridge is located just south of Washington Union station, and the existing double-track alignment is a major bottleneck.
The agreement also includes provisions for future passenger rail use. These include acquisition of the abandoned S-Line alignment, which runs from Petersburg into North Carolina, for future inclusion in the proposed Southeast High Speed Rail programme, and protecting an existing freight corridor between Doswell and Clifton Forge for a possible east-west passenger service.
'VRE already moves the equivalent of one lane of traffic off I-95 and I-395 each day', said Jennifer Mitchell, Director of Virginia's Department of Rail & Public Transportation. 'This agreement will allow Virginia to move double the number of people at a fraction of the cost.'
'Amtrak is thrilled to be supporting this game-changing rail investment programme as an investor and partner', said Stephen Gardner, Amtrak Senior Executive Vice President & Chief Operating and Commercial Officer. 'This is a model for the nation of how to grow passenger and freight service together in order to relieve congestion, protect our environment, and enhance mobility.'
'CSX is proud of the innovative agreement reached with the Commonwealth of Virginia which will advance our goals for increased safety, efficiency, and volume growth while meeting the public's desire for more passenger rail service to relieve commuter traffic congestion in the I-95 corridor', added Jim Foote, President & Chief Executive Officer of CSX Corp.