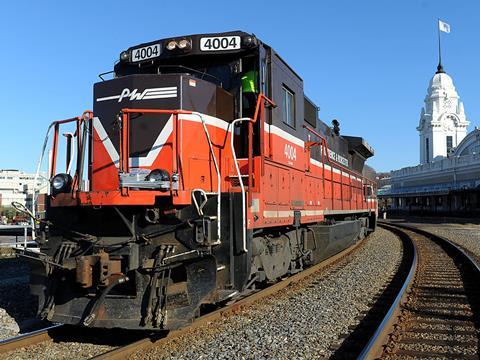 USA: Plans for the USA's 'first privately-funded passenger rail service in almost 100 years' have been announced by Boston Surface Commuter Railroad Co.
This would operate over the Providence & Worcester Railroad between the eponymous cities in Rhode Island and Massachusetts, offering a reliable alternative to unpredictable road journey times. A launch in 18 months to two years is envisaged.
BSRC founder and General Manager Vincent Bono told Railway Gazette International that the plan arose from a consultancy project which examined why passengers use rail. This identified that a 'measurable percentage' of people will take the train for journeys of around 70 km taking 50 min or over, but also found that a solid commuter base of regular passengers is needed to ensure financial viability. The Worcester – Providence route was subsequently identified as a suitable candidate.
BSRC is using $3m of start-up funding to assess what work would be required to introduce the passenger service on infrastructure owned by P&W, which is supportive of the project. Existing rolling stock would acquired and refurbished for the service; 'there is a lot of stock out there in North America', according to Bono.
The company plans to lease F40 diesel locomotives, which would be operated by P&W under contract, with the freight railway providing drivers and BSCR the customer-facing staff
The aim is to offer a journey time of around 70 to 75 min for the 75 km trip, which would be comparable to a rarely-achievable and weather and traffic-dependent best time of around 60 min by road. 'Our goal is not high speed rail, it is reliable rail', said Bono.
Initial ridership of 750 passengers/day is envisaged, growing to six trains/day and 1 million riders/year in five years, or 8% of the daily commuter market between the two cities. Fares have not been set, but the aim is to be competitive. No public subsidy would be required.