FRANCE: RENFE Viajeros began running open access international high speed services between Madrid and Marseille on July 28, having introduced a Barcelona – Lyon service on July 13.
The two routes had previously been operated by RENFE in co-operation with SNCF since 2013, but these services were withdrawn in December 2021, after the French incumbent launched services under its Ouigo brand to compete with RENFE on domestic routes in Spain.
The Spanish national operator decided to establish its own French subsidiary, in order to relaunch the two international services as a commercial operation under European open access rules.
The formation of RENFE Viajeros was completed in June, although the company had already been awarded a safety certificate in December 2022 to operate from the border near Perpignan to Lyon Part-Dieu and Marseille Saint-Charles.
Both international services are operated using RENFE's nine AVE S100 F trainsets, which were built by Alsthom and are equipped to run in France. These were previously deployed on the two routes as part of the RENFE – SNCF co-operation agreement, alongside the TGV Duplex trainsets which SNCF continues to operate between Paris and Barcelona. Departure times of the open access services are also identical to the earlier pattern.
Gradual expansion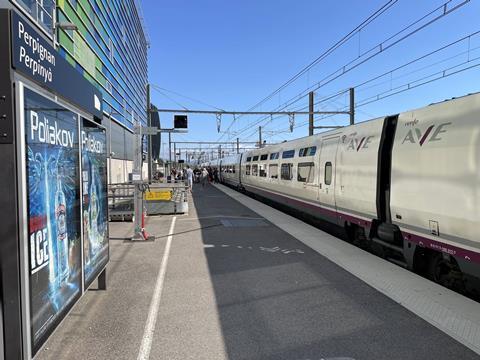 RENFE Viajeros' inaugural open access train departed from Barcelona Sants at 08.22 on July 13, arriving at Lyon Part-Dieu at 13.20. This service is initially operating on four days per week, between Friday and Monday, with the trains calling en route at Girona, Figueres-Vilafant, Perpignan, Narbonne, Béziers, Montpellier Saint-Roch, Nîmes, and Valence-TGV. The operator expects to launch a daily service from September 1.
Open-access services on the Madrid – Marseille route began on July 28. The inaugural train departed from Madrid Atocha at 13.25 and arrived at Marseille Saint-Charles at 21.30. Services call at Guadalajara, Zaragoza, Camp Tarragona, Barcelona Sants, Girona, Figueres-Vilafant, Perpignan, Narbonne, Béziers, Montpellier Saint-Roch, Nîmes, Avignon TGV, and Aix-en-Provence TGV.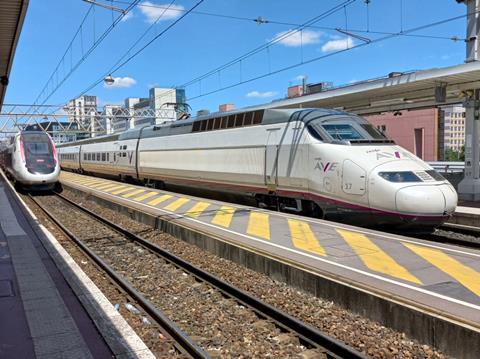 As with the Lyon route, RENFE Viajeros is building up the Madrid – Marseille service gradually. Trains are initially running three times a week, departing from Madrid on Fridays, Saturdays and Sundays and returning the following day. Daily services are expected to begin from October 1.
Barcelona – Lyon fares start from €19 each way, while Madrid – Marseille tickets are available from €29.
Competition develops
Following the ending of the joint venture, SNCF has continued to run its Paris – Barcelona TGV service using a small set of six TGV Duplex trainsets that had been modified for use in Spain. These trains now operate under the Ouigo España safety case, which covers the whole of Spain's 1 435 mm gauge network. SNCF is currently running two trains per day between the French capital and Barcelona, but expects to add a third trip in each direction before the end of this year.
RENFE has made clear that it intends to apply for approval to operate across the whole French network in the future, as part of its long-standing ambition to expand in line with the liberalisation of the French passenger market. The company has already applied for a safety certificate to operate between Lyon and Paris, and is seeking authority for its new Talgo Avril S106 trainsets to run in France.
Subject to obtaining the necessary approvals, RENFE Viajeros plans to introduce five trains each way per day between Paris and Lyon from 2024, one of which would be extended from Lyon to Barcelona.