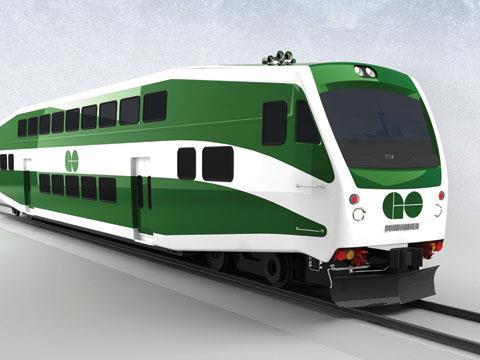 CANADA: Toronto regional transport agency Metrolinx has awarded Bombardier Transportation a C$200m order to supply commuter operator GO Transit with 60 double-deck coaches to an updated version of Bombardier's BiLevel design.
The contract was announced by Ontario Premier Dalton McGuinty on May 25 during a visit to Bombardier's Thunder Bay plant, where design work is underway. Production will begin in the second quarter of 2013 for entry into service from spring 2015.
According to Bombardier, the revised design will include a new structure incorporating crash energy management crumple zones. The push-pull driving cars will have a revised cab design, which, as well as increasing safety, will provide better visibility. Cab ergonomics will be improved, and train monitoring capabilities enhanced.
Passengers will benefit from onboard wi-fi, and improved ventilation, door and toilet systems. Better insulation will increase energy efficiency, and LED lighting will be used instead of fluorescent tubes.