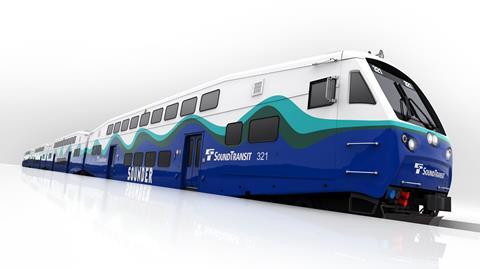 USA: Bombardier Transportation has signed contracts totalling US$108m to supply 28 BiLevel double-deck coaches to two West Coast transport operators.
The order anounced on May 27 covers three push-pull driving cars and eight intermediate coaches for Seattle's Sound Transit, which led the procurement, as well as five driving and 12 intermediate cars for a second customer which Bombardier told Railway Gazette International does not wish to be named. There are options for up to 33 additional vehicles.
The coaches will be built at Bombardier's Thunder Bay plant in Canada for delivery from Q4 2021.
'We are very happy to serve our valued, long-term commuter rail car customers as they expand and improve their fleets to meet ridership needs and enhance the passenger experience', said Elliot G Sander, President, Americas Region, at Bombardier Transportation. The supplier said the 'service-proven and reliable' BiLevel design, which was first introduced in 1978, is now being used by 14 transport authorities in the USA and Canada.
The latest iteration of the design incorporates crash energy management and a full-width driving cab provides better aerodynamic design. The doors and air-conditioning systems have also been enhanced and more efficient lighting provided.