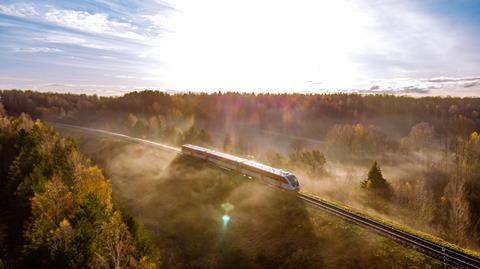 EUROPE: Lithuanian passenger operator LTG Link expects to launch a through service from Vilnius to Riga in Latvia in December, filling a gap in the European passenger rail network.
A track access agreement has been signed with the Latvian infrastructure manager, Latvian speaking drivers have been recruited and the final authorisations are now being obtained with a view to the Vilnius – Kaišiadorys – Šiauliai – Joniškis – Jelgava – Riga service starting on December 27 2023.
LTG Link told Railway Gazette International that further details of the serve would be announced once they have been confirmed.
The rail journey would be faster than other alternatives, LTG Link said when it announced its plan on November 10.
There is currently no through passenger service between the two capitals, although before the pandemic determined rail travellers could make the journey via Daugavpils.
Acting head of LTG Link Gediminas Šečkus said he hoped that the new service would attract public attention, as 'passengers looking for weekend entertainment in neighbouring capitals will have a new convenient connection with Riga, and the business community of the Baltic countries will be given the opportunity to comfortably and safely go on business trips, using the travel time meaningfully'.
Loreta Maskaliovienė, Lithuania's Deputy Minister of Transport & Communications, said the service was the result of an agreement reached by the transport ministers and prime ministers of the three Baltic countries earlier this year.
'We hope that in the future there will be a connection to Tallinn', she said, 'and after the construction of Rail Baltica we will be able to travel to our neighbours even faster and more comfortably'.