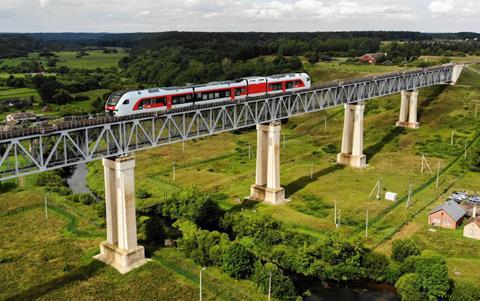 LITHUANIA: National passenger operator LTG Link has awarded Stadler a contract to supply electric inter-city and battery regional multiple-units, in the Swiss manufacturer's first contract in Lithuania.
The contract signed on June 21 includes a €226·5m base order for Stadler Polska to supply nine Flirt EMUs for inter-city services and six battery units with a range of 70 km to replace diesel trains on non-electrified lines. Deliveries are planned for 2025-27, with entry into service from 2026.
Stadler will supply spare parts throughout the trains' 30-year life, with an initial 10-year technical support and spares agreement running to 2037.
There are options to increase the order to 13 inter-city EMUs and 11 battery trains with a 70 km range plus 15 with a range of 100 km.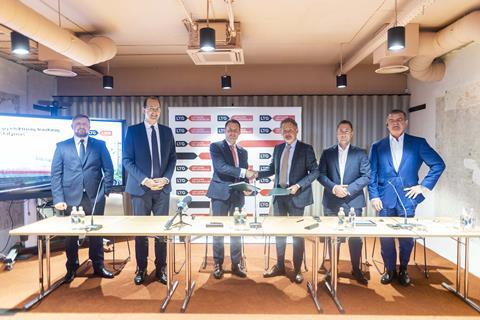 Minister of Transport Marius Skuodis said the order would transform the train fleet, providing a new standard of quality and full accessibility.
It would also mean 'a new era in the railway sector as the company resolutely turns to the west and definitively abandons any connections, train parts or service from its eastern neighbours'.
Inter-city trainsets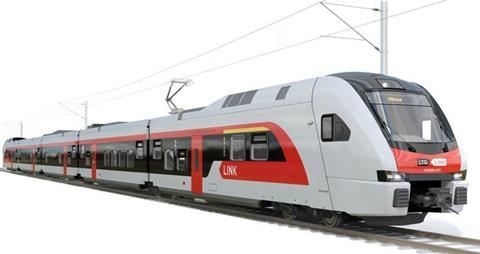 The Flirt Intercity electric multiple-units are scheduled enter service on the Vilnius – Klaipėda route from 2026, once electrification is completed.
The five-car sets will be 93 m long with five doors per side. They will have up to 200 seats, including 16 in first class, with a dedicated working area for business travellers.
There will be a 'spacious' luggage area, and room for 14 to 30 bicycles adjustable according to the route and seasonal demand.
There will also be a bistro where passengers can order a meal.
Battery units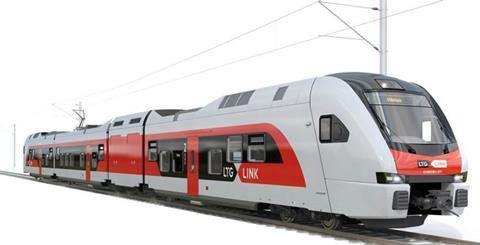 The six battery multiple-units will be 65 m long with three cars and a power car housing the traction batteries.
'Suitable for operation in both hot summers and cold winters and suitable for broad gauge railways, the battery trains will be the first of their kind in the northern European region', said Linas Baužys, head of LTG Link.
They will have three doors per side, with up to 128 seats and space for six to 30 bicycles according to demand.
They will be fitted with a snack vending machine.
Leap in quality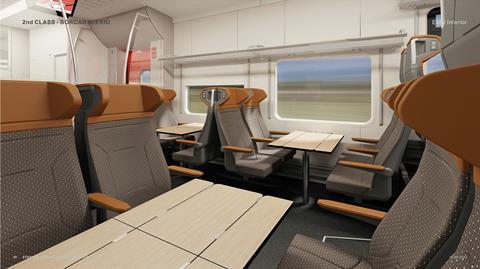 Baužys said the new trains would 'make a significant contribution to the realisation of our sustainable mobility goals', providing 'a significant leap in the quality and experience of train travel for all passengers'.
They will offer step-free access, with wheelchair lifts for use at low platforms and accessible toilets.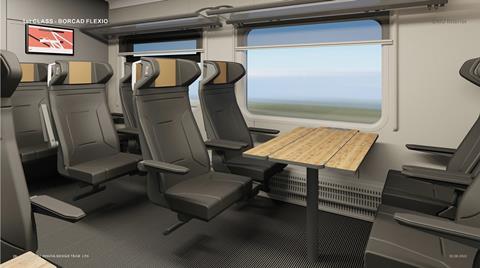 The tender for the new train was announced in 2020. Bids were evaluated on economic factors including price, warranty and maintenance costs, and quality factors including comfort, noise, number of seats, battery technology, reliability and delivery timescales.
Commenting on the order, Stadler Executive Chairman Peter Spuhler said the Flirt 'is a tried and tested, reliable and comfortable model based on a lightweight modular design, that is available in a number of drive variants, meets the expectations of the most demanding customers and is environmentally friendly'.