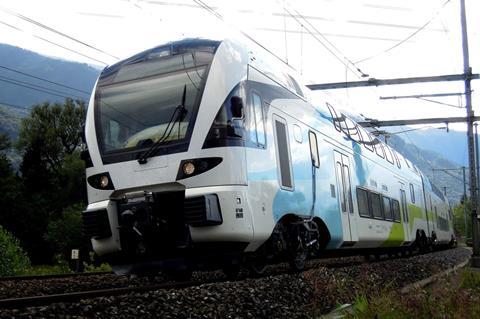 AUSTRIA: More than half of Westbahn's inter-city passenger services between Wien and Salzburg may be withdrawn within the next few days, unless agreement is reached to continue the interim support provided by the government for operations during the Covid-19 pandemic.
Affecting both Austrian Federal Railways and the open access operator, the special arrangements in the form of emergency public service contracts ceased to apply from February 7.
Leonore Gewessler, Minister responsible for transport within the Ministry for Climate Action, Environment, Energy, Mobility, Innovation & Technology, said on February 9 that arrangements had been made for services to continue, but formal approval was needed from the Ministry of Finance. This had so far failed to materialise, with Finance Minister Gernot Blümel insisting that 'various questions' be answered beforehand.
At a press conference on February 9 Hans Peter Haselsteiner, the main shareholder in Westbahn, called on Blümel to make a rapid assessment of the consequences of his decision, taking into account what would happen if the public service contract arrangements were not renewed.
Haselsteiner pointed out that a 'significant number' of services would be withdrawn and that Westbahn employees would lose their jobs. He noted that nationalised operator ÖBB could increase its level of services to compensate for the withdrawal of Westbahn trains, but that this would mean higher losses which would need to be covered sooner or later by the government; lack of competition in such circumstances would attract a reprimand or penalties from Europe's competition authorities.
With Covid-19 lockdown restrictions in Austria eased on February 8, Haselsteiner said that the number of passengers would start to rise again and warned that this could mean it was impossible to keep to 2 m social distancing if fewer trains were in operation. He said Westbahn would for the moment continue to operate the same number of services to allow time for the Minister of Finance to review the company's contentions, but a statement published with the company's online timetable said the number of services was likely to be reduced from February 11.
Under the arrangements in force until February 7, Westbahn and ÖBB had shared operation of limited services between Wien Meidling and Salzburg with both operators accepting each others' tickets.
Haselsteiner told local media that Westbahn had made a profit of €16m in 2019, but that this had turned into a loss of €6∙5m in 2020 because of the pandemic, roughly equivalent to the money provided under the public service contract agreement. Local reports also suggested that Westbahn would continue to run peak-hour trains but would withdraw other services.
ÖBB is also understood to be planning to reduce the level of service between Wien and Salzburg unless its public service contract is renewed.