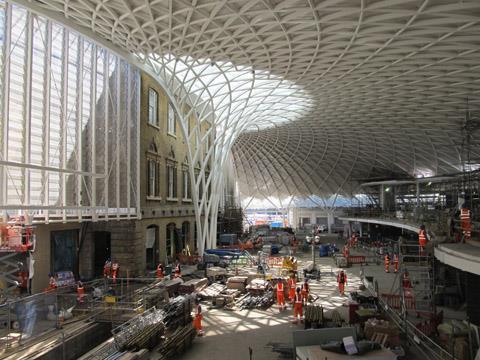 UK: A £500m programme is underway to equip London King's Cross station to handle a predicted a growth in traffic from 40 million station users a year to a potential 50 million, and restore the nineteenth century structure to its former glory as part of the regeneration of the surrounding area.
What lead architects John McAslan + Partners describes as the 'centrepiece and the beating heart' of the revitalised East Coast Main Line terminus will be a 7 500 m2 western concourse which has now been structurally completed. It is more than three times the size of the current disjointed concourse built in the 1970s under 'temporary' planning consent, which is to be demolished by September 2013 to create a public area designed by Stanton Williams.
The western concourse is set to open in March, before major engineering activity is suspended for the Olympic Games. Designed by JMP, engineered by Arup and built by Vinci, its main feature is a 20 m high semi-circular roof supported on 16 steel 'tree form' columns radiating from a central funnel. The station has England's highest level of legal protection for a historic building, and so the new roof is structurally independent of the station and also the Great Northern Hotel, which has had its ground floor knocked through to create a pedestrian route in to the concourse.
King's Cross handles a mix of commuters and long-distance passengers, and the concourse will have a mezzanine level intended to help separate regular passengers who know their route from less frequent users who arrive early and need time to orient themselves. A former parcels tunnel under the platforms has been revamped as a service tunnel to enable backstage train and retail supply and cleaning activities to take place away from passengers.
The original booking hall is being returned to use, and a gap where the building was bombed in World War II has been filled in the original style, enclosing a modern ventilation shaft from London Underground lines below.
Mike Byrne, Director, Buildings London, at Arup told Railway Gazette International that the most challenging aspect of the work has been keeping the station open. When the adjacent St Pancras station was being rebuilt trains were diverted to new platforms leaving the trainshed free, but this was not possible at King's Cross.