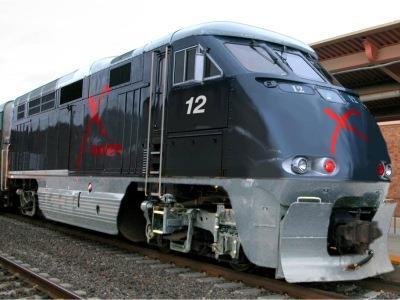 USA: Inter-city passenger trains between Southern California and Las Vegas are set to resume in January 2014, following an inaugural run planned for December 31 2013. Trial running is expected to begin in October, 16 years after Amtrak's Los Angeles – Salt Lake City – Chicago Desert Wind was withdrawn in 1997.
The privately-operated X-Train is being promoted by Las Vegas Railway Express Inc, which envisages a 5 h journey time between Las Vegas and Fullerton, southeast of Los Angeles, where the inter-city trains would connect with Metrolink commuter rail services. X-Train plans to begin with two trips each way per week, leaving Fullerton on Thursdays and Fridays and returning from the Nevada gambling resort on Sunday and Monday afternoons.
Key to the project is a trackage rights agreement with Union Pacific allowing X-Train to operate over UP tracks between Las Vegas and Daggett, California, which was signed on November 16. The company is currently negotiating for Amtrak to provide operating crews and for the use of Amtrak's existing rights to run over BNSF tracks between Fullerton and Daggett.
Backers are now being sought to provide $100m to launch the service; the deal with UP is conditional on the promoters funding improvements along the route including several sections of double-tracking reportedly totalling $56m. Around $12m has already been raised since 2009 to develop the project and acquire suitable rolling stock.
According to X-Train President & CEO Michael Barron, work is to start in early 2013 on refurbishing 16 gallery cars, which have already been acquired. These are to be fitted with reclining seats and large-screen televisions, as well as bar facilities. Various sites are being investigated for the construction of a new passenger station in Las Vegas at a cost of $6·5m. Each train is expected to carry 576 passengers, with introductory fares starting at $99 each way, but will be limited to adults only.
Las Vegas Railway Express had originally hoped to launch its services in mid-2011, with trains running five days a week, but it was unable to reach agreements with Amtrak and the two freight railroads in time.