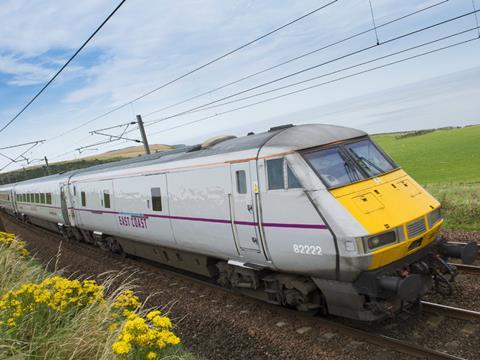 UK: An 'immediate start' to re-letting the InterCity East Coast franchise was announced by Transport Secretary Patrick McLoughlin on March 26, when he unveiled a 'detailed transparent timetable' for the replacement of all passenger train operating franchises over the next eight years.
ICEC has been run by the Department for Transport's Directly Operated Railways since 2009, but the government's 'expectation' is that 'the new franchisee will carry its first passengers by February 2015'.
Responding to the findings of a review by Eurostar Chairman Richard Brown, which was established in the wake of the collapse of the InterCity West Coast refranchising process last year, the Department for Transport had committed to issue a revised programme by April. Brown has now been appointed to head a new Franchise Advisory Panel, which the government is establishing to provide 'independent advice' and oversee DfT's work on the franchising programme.
McLoughlin said 'franchising has been a force for good in the story of Britain's railways, transforming an industry that was in decline into one that today carries record numbers of passengers. This programme is a major step in delivering tangible improvements to services, providing long-term certainty to the market and supporting our huge programme of rail investment. Above all, in future franchise competitions we are placing passengers in the driving seat by ensuring that their views and satisfaction levels are taken into account when deciding which companies run our railway services.'
Reflecting Brown's recommendations, the new programme will provide a 'more sustainable schedule', with no more than three or four franchise competitions per year. The InterCity West Coast and East Coast franchises will be staggered 'so they will not be let at the same point in the economic cycle'.
In order to stagger the franchise start dates DfT plans to extend some existing franchises and directly award some short-term contracts, starting with six-month extensions to the First Capital Connect and Southeastern franchises. However, whilst the government's preference is to negotiate direct awards with current operators, DfT warned that Directly Operated Railways would 'be readied in case an agreement cannot be reached'.
McLoughlin also indicated that the government expects to approve the construction of three new stations, at Ilkeston in Derbyshire, Pye Corner near Newport in South Wales and Lea Bridge in East London, to be supported by the New Station Fund. A final announcement is expected in May.
Revised franchising programme

Franchise
Current end date
New start date
Essex Thameside
May 2013
Sep 2014
Thameslink/GN
Sep 2013
Sep 2014
Southern
Jun 2015
Merge with TGN
East Coast
n/a
Feb 2015
Northern
Apr 2014
Feb 2016
TransPennine
Apr 2015
Feb 2016
Great Western
Oct 2013
Jul 2016
Greater Anglia
Jul 2014
Oct 2016
West Coast
Nov 2014
Apr 2017
London Midland
Sep 2015
Jun 2017
East Midlands
Apr 2015
Oct 2017
Southeastern
Apr 2014
Jun 2018
Wales & Borders
Oct 2018
Oct 2018
South West
Feb 2017
Apr 2019
CrossCountry
Apr 2016
Nov 2019
Chiltern
Dec 2021
Dec 2021
For in-depth coverage of the UK market, read Rail Business Intelligence.