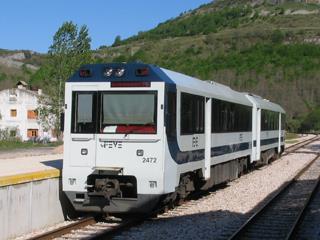 SPAIN: Under the 2012 national reform programme approved by the Spanish cabinet on April 27, metre gauge operator FEVE is to be spilt into infrastructure and train operating functions that would then be absorbed by their counterparts on the national network, ADIF and RENFE. This is expected to improve efficiency and generate economies of scale, as the government moves to tackle FEVE's poor financial health.
In an interview published in the May issue of the in-house magazine Raíles, recently-appointed FEVE President Marcelino Oreja identified the railway's financial situation as its 'Achilles' heel'. With losses now running at around €150m a year, FEVE's annual turnover of €35m is insufficient to meet financing costs of €100m in 2012, incurred by servicing debt which had reached a total of €536m at the end of 2011, up from €185m in 2004.
'We must revise our investment plans on the basis of real demand', said Oreja. Other urgent priorities included the adoption of separate accounting for infrastructure and operations as required by EU legislation.