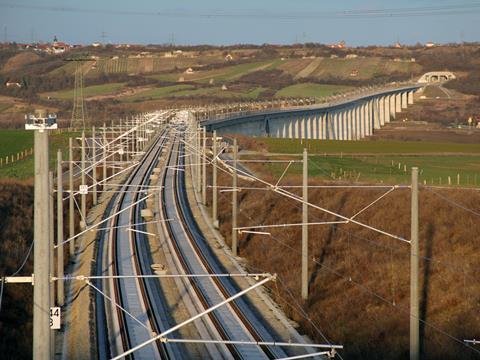 GERMANY: Following detailed studies, 29 rail projects included in the 2030 federal transport infrastructure plan have been added to the priority list for implementation, Federal Transport Minister Andreas Scheuer announced on November 6.
The decision follows examination of the cost-effectiveness of 44 potential projects, some of which could be added to the priority list at a later date following further studies. The chosen schemes can now be planned in detail, but implementation remains subject to further approvals and funding allocations.
The approved schemes include 22 new or upgraded routes, six projects to remodel railway hubs and measures to permit the operation of 740 m long freight trains. Scheuer said the schemes would be of benefit to regions and to the entire network, eliminating bottlenecks, creating more capacity and providing the infrastructure needed to support more clockface operations.
Project number
Scope
Route
3
Modernisation
München – Mühldorf – Freilassing (including Walpertskirchen link to allow direct München airport – Salzburg services and double-tracking Tüßling – Freilassing)
4
Modernisation/New line
Nürnberg – Erfurt (including works to reduce journey times and the Fürth Tunnel)
6
Modernisation
Nürnberg – Schwandorf/München – Regensburg – Furth im Wald – Czech border
9
Modernisation
Dutch border – Kaldenkirchen – Viersen – Rheydt-Odenkirchen
10
Modernisation
Augsburg – Donauwörth
13
Modernisation
Gotha – Leinefelde
15
Modernisation
Stuttgart – Backnang/Schwäbisch Gmünd – Aalen – Nürnberg
16
Modernisation
Kehl – Appenweier
17
Modernisation
Landshut – Plattling
18
Modernisation
Lübeck – Schwerin
20
Modernisation
Weimar – Gera – Gößnitz
21
Modernisation
Regensburg – Mühldorf
22
Modernisation
Niebüll – Klanxbüll
24
New line
Studernheimer curve (Mannheim)
25
Modernisation
Hamburg – Ahrensburg
26
New line
Dresden – Praha
27
Modernisation
Lehrte/Hameln – Braunschweig – Magdeburg – Roßlau
28
Modernisation
Cuxhaven – Stade
30
Modernisation
Münster – Lünen
31
Modernisation
Leipzig – Chemnitz
32
Modernisation
Wilster – Brunsbüttel
33
Modernisation
Berlin – Angermünde – Pasewalk – Stralsund
37
Upgrades to accommodate 740 m long freight trains
38
Remodelling
Frankfurt (including Nordmain S-Bahn)
39
Remodelling
Hamburg (including S4 Ost und West)
40
Remodelling
Hannover
41
Remodelling
Köln (including West chord and Köln - Mülheim link)
42
Remodelling
Mannheim
43
Remodelling
München