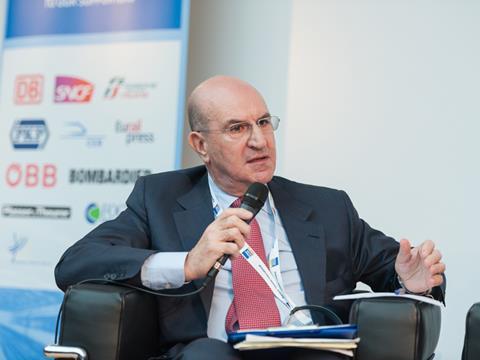 ITALY: The Ministry of Economics & Finance is to 'consider the various feasible options' for the privatisation of some or all of the Ferrovie dello Stato Italiane Group, its Managing Director Michele Mario Elia said in Brussels on November 5.
Speaking on the fringes of the European Rail Summit, Elia said that any decision on future restructuring of the group would be taken by the government, currently the sole shareholder in FS Group. 'In my personal opinion, the priority today is to retain the integrity of the group', Elia explained, 'but this does not preclude possible future options for partial privatisation.'
FS already has ongoing plans to maximise the commercial activities of certain parts of the group, including station and property development arm Grandi Stazioni and its electrical power transmission operations. Elia said that various options would be assessed over the next year with a view to implementation from 2016.
Meanwhile, Elia restated FS's commitment to strengthening its operations in countries 'close to Italy'. He saw further opportunities for its Netinera subsidiary to win more regional and suburban operating concessions in Germany, while he hoped that the Thello open access joint venture with Transdev could introduce more trains between Italy and France, building on the Marseille – Milano service which it is to launch on December 14. Next June's Expo 2015 in Milano would also be an opportunity to increase traffic on trans-Alpine routes into Switzerland.
In the longer term, Elia said that he was 'hopeful' that the European liberalisation process would permit FS to compete internationally on a reciprocal basis, for example by running ETR1000 high speed trainsets on the French network 'in commercial service, not just for tests'. SNCF already has a toehold in the Italian market through its minority share in private high speed operator NTV.