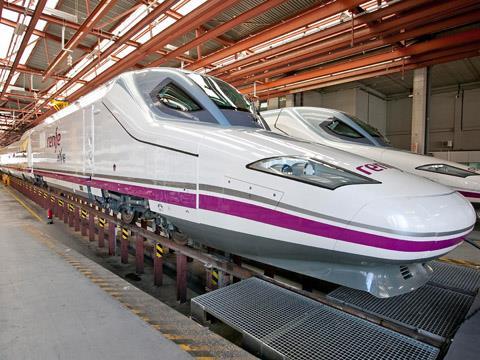 SPAIN: Development Minister Ana Pastor has presented the cabinet with proposals for a package of rail legislation that the government intends to bring to parliament following 'extensive' public hearings involving the rail sector.
As well as transposing European Directive 2012/34, the legislation aims to encourage new high speed operators so that passengers can enjoy 'more services at more competitive prices', according to Pastor.
Under the proposals presented on March 13, the Ministry of Development would produce a strategy for infrastructure development, maintenance and renewals, which would inform five-year business plans drawn up by ADIF and ADIF Alta Velocidad, including their proposed access charges. The ministry would then sign agreements with the infrastructure managers for the conventional and high speed networks, setting out their targets and the government funding to be made available.
According to the ministry, the existing track access charging regime is 'complex' and does not encourage new services. With aim of increasing use of the 'excellent' Spanish network, the new structure would abolish the annual access charge which is at present 'a major barrier to entry', instead charging operators for capacity allocation, line usage and the use of electrification systems. There would be financial incentives for new services, and separate charges would apply for the use of gauge-changing installations, stations and platform tracks, as well as freight terminals and other sidings.
In addition to state operator RENFE, there are at present 27 companies holding railway operating licences in Spain, comprising five passenger operators, 13 freight operators and nine licensed for both. Under the proposed legislation, separate accounting would be required for passenger and freight operations, and to differentiate between passenger services operated on a commercial basis and those provided under a public service obligation.
The new law also makes provision for the creation of a new railway safety agency, which will have its own sources of funding to ensure its independence from infrastructure managers, operators or funding authorities.