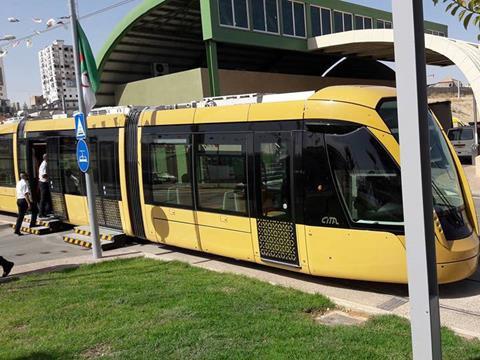 ALGERIA: The fourth tramway in Algeria opened on July 25, when the 14·3 km route in Sidi Bel Abbès was inaugurated by Minister of Transport & Public Works Abdelghani Zaalane.
Yapı Merkezi acted as construction contractor. The Cital joint venture of Alstom (49%), Ferrovial (41%) and Entreprise du Métro d'Alger (10%) has supplied 30 Citadis trams assembled at its factory in Annaba. The 100% low-floor seven-section trams are 44 m long capacity for 302 passengers. According to Alstom, the livery is the colour of wheat fields, a symbol of the region.
Services are operated by the Setram joint venture of RATP Dev (49%), Etablissement Public de Transport Urbain et Suburbain d'Alger (36%) and EMA (15%).