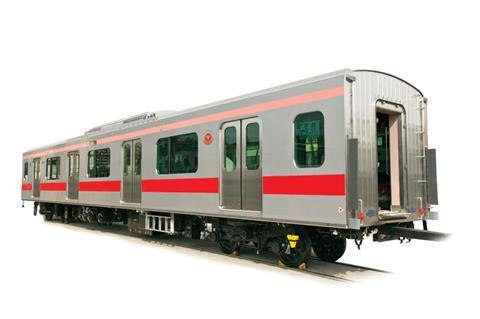 JAPAN: Japan Transport Engineering Co and Tokyo commuter operator Tokyu Corp have begun testing a prototype Sustina lightweight stainless steel electric multiple-unit car. Developed for both domestic and export markets, the vehicle is undergoing trials in revenue service as part of a Series 5050 EMU on the Toyoko Line.
Sustina is intended to offer a long service life, and 'exceptionally high reliability' to avoid disruption on busy commuter routes. The laser-welded stainless steel body is watertight and does not require painting, and incorporates a lateral ceiling roll-bar for high side-impact crashworthiness.
J-TREC says the lightweight design it is up to 30% lighter than a mild steel design and equivalent to an aluminium-bodied vehicle, bringing a significant reduction in traction energy compared to other steel-bodied EMUs.
Interior panels are as simple and flush as possible, with a modular design to minimise production costs. The styling can be specified by the customer.