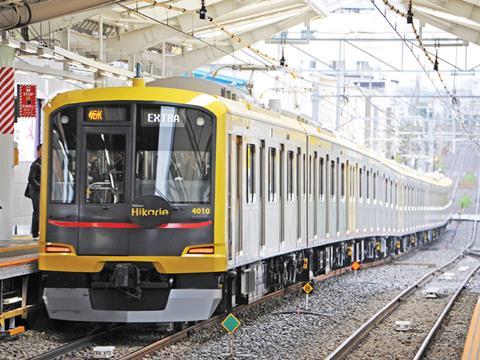 JAPAN: Tokyu Railway has started putting into service a new generation of 1067 mm gauge commuter EMUs designed for through running onto neighbouring networks.
This follows the transfer of operations at its Tokyo Shibuya station from the former elevated terminus to a low-level station allowing through running with Tokyo Metro Line 13.
Branded as Shibuya Hikarie, the Series 4000 is derived from Tokyu's earlier Series 5050; the two classes are set to become the railway's standard designs for the next few years.
Each 10-car set has five motor cars, two driving trailers and three intermediate trailers, offering a total capacity for 1478 passengers. The cars are 20 m long and 2800 mm wide, which is slightly narrower than the Series 5050 to allow the units to operate on the Den'entoshi Line as well as Line 13.
With a stainless steel body, carried on bolsterless bogies with secondary air suspensions, the cars weigh between 25·4 and 33·7 tonnes each. Taking power from the overhead line at 1·5 kV, the units are powered by four 190 kW asynchronous traction motors on each of the motor cars, driving through parallel cardan shafts. Maximum speed is 120 km/h.
The Shibuya Hikarie EMUs have a gold livery to celebrate the opening of the new station, and three interior colour schemes designated Active, Chic and Clear.
Tokyu Railway's 102·9 km network has two main lines: the Toyoko Line linking Shibuya with Yokohama and the Den'entoshi Line connecting Shibuya with Churinkan; together these handle more than 2·9 million passengers a day.