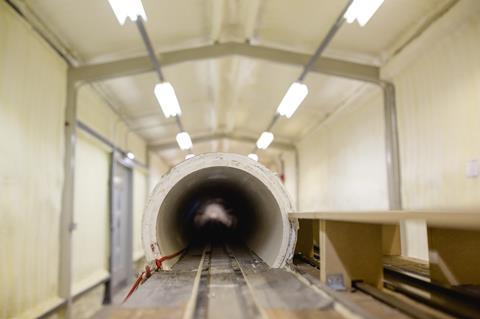 UK: The University of Birmingham's Transient Aerodynamic Investigation facility at Derby's Rail Technology Centre business park has reopened following a £1·5m renovation.
Part of the University of Birmingham's Birmingham Centre for Railway Research & Education, the TRAIN rig with an instrumented 150 m long track enables researchers to examine the aerodynamic effects created by moving vehicles and the impact on their surroundings.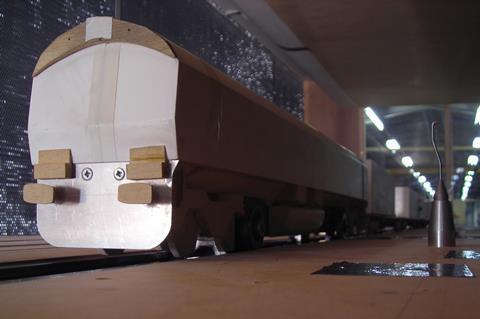 Researchers can fire models at speeds of up to 80 m/s to examine aerodynamic effects including slipstream development and pressure effects. Recent rail projects have included work with RSSB, High Speed 2, Arup and Bombardier Transportation.
The rig has been extended by 45 m to allow a 30-fan return flow crosswind tunnel to be added into a 7 m wide, 15 m long stretch of the running track which researchers can use to provide more detailed outputs under a greater variety of wind conditions.
Scientific instrumentation capabilities have been increased, with equipment purchases include a bespoke LaVision 3D tomographic particle image velocimetry system capable of measuring flow volumes of 0·5 m3, a 48-channel triple wire system and 18 multi-hole pressure probes capable of measuring flow velocities in three dimensions.
'The crosswind facility will allow us to realistically explore the effect of winds on moving vehicles, considering not only mean winds but also gusts', said Dr David Soper, Lecturer in Vehicle Aerodynamics at the University of Birmingham's School of Engineering and Manager of the TRAIN facility. 'The state-of-the-art scientific instrumentation is already allowing us to understand previously unexplored concepts.'
The enhancement work was funded by the UK Collaboratorium for Research into Infrastructure & Cities, which supports multi-disciplinary research in sectors including transport, water, waste, energy and information technology.