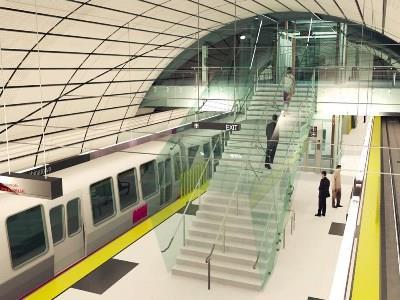 USA: San Francisco Municipal Transportation Agency awarded an $840m contract for the Central Subway project to Tutor Perini Corp on June 20.
The contract covers construction of four stations and trackwork for the 2·7 km extension of Muni's T Third Line. Tutor Perini expects 'substantial completion' in the second quarter of 2018, ahead of planned opening in 2019.
The Central Subway project is the second phase of the Third Street Light Rail Transit Project. Phase 1 saw the building of an 8·2 km light rail line along 3rd Street, which opened in April 2007. Four stations will be constructed in Phase 2: 4th/Brannan, Yerba Buena/Moscone, Union Square/Market Street and Chinatown. All apart from 4th/Brannan will be underground.
Of the total funding for Phase 2, $942·2m will come from the Federal Transit Administration's New Starts programme. Federal, state and local sources will provide the remainder of the of the $1·6bn budgeted for the project.