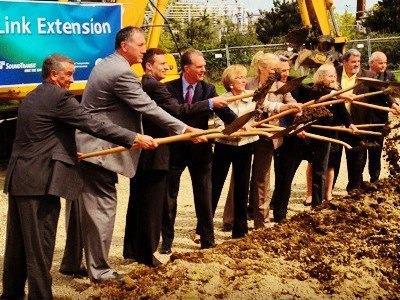 USA: A groundbreaking ceremony for the South 200th Link light rail extension was held in Seattle on April 26. The 2·6 km elevated line will run from Seattle-Tacoma International Airport, along 28th Avenue South to South 200th Street. It is due to open together with the University Link extension in late 2016.
'We must build a transportation system that will support our growing region,' said Washington Governor Jay Inslee. 'The growing Link light rail system is adding much-needed transportation capacity for commuters and families. Beyond the transportation benefits, building infrastructure is one of the best ways to stimulate our economy.'
Peak services on the line will run every 6 min in each direction. Construction is estimated to cost $383·2m. TIGER grants make up $10m, with a further $16m from other federal funds.