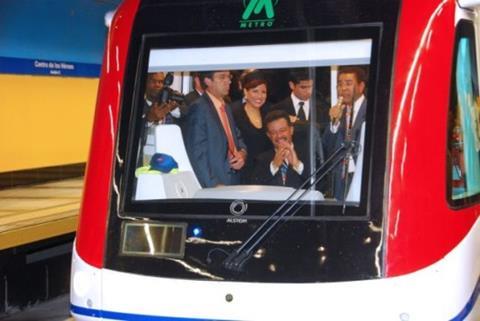 DOMINICAN REPUBLIC: In his speech accepting a third term of office on August 16, President Leonel Fernández announced that a second metro line would be built in the capital, Santo Domingo.
The opening of the 14·5 km Line 1 running north-south across the city is now scheduled for November. End-to-end journey time between Mamá Tingó and the southern terminus at Centro de los Héroes will be about 20 min.
Rolling stock consists of 19 three-car Metropolis 9000 trainsets assembled by Alstom at its Barcelona plant — President Fernández took part in a test run on February 27 this year.
In his speech, the President also mentioned a plan for construction of a main line railway for passenger and freight traffic between Puerto de Haina and Santiago as part of a national infrastructure investment programme which would, he said, be funded as a public-private partnership.
According to Leonel Carrasco, Deputy Director of the Transport Reform Office, no details of the second metro line can be made available at the moment as all resources are being devoted to preparations for the opening of Line 1.
During a recent visit to Santo Domingo, Guatemalan Vice-President Rafael Espada met with metro officials to learn about the project, as construction of a metro system in Guatemala is at the planning stage. The Dominican Republic offered to provide technical assistance and surveying equipment.